BlackBerry, Amazon team up to create connected, intelligent, and secure vehicles
Jan 11, 2020, 7:23 am
Photo courtesy of Audi AG
Most of us have seen the stories about hackers getting into a vehicle and taking over its controls. Some might even call them horror stories. As vehicles become more connected to the internet, their vulnerability increases and so does that of the vehicles' occupants.
BlackBerry is teaming up with internet giant Amazon and its Amazon Web Services business to create a a customizable solution that original equipment manufacturers can use to "future-proof" their vehicles and fleets. BlackBerry says that companies across the transportation spectrum will be able to develop artificial intelligence (AI) and machine learning (ML) "software-driven use cases with a view to enhancing the overall safety and security of their vehicles."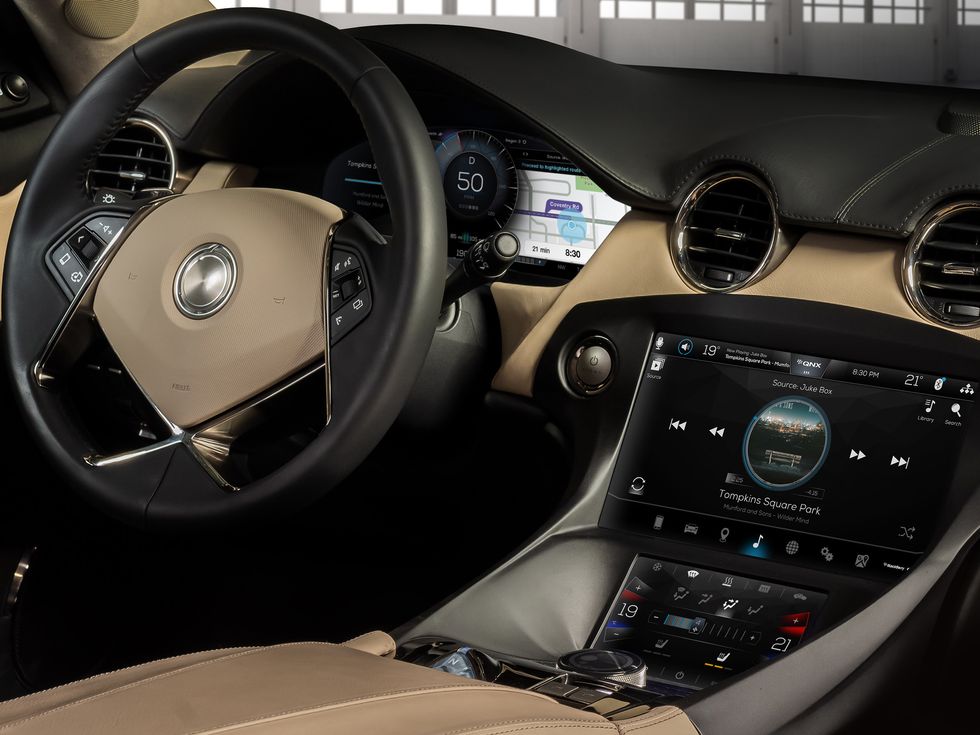 Karma will be the first automaker to use the technology in a vehicle.Photo courtesy of Karma Automotive
This new offering is the first time BlackBerry Cylance's AI and ML technologies have been integrated with BlackBerry QNX solutions, which currently are embedded in more than 150 million cars on the road today. That is an increase of 30 million cars over 2018.
"The world's leading automakers, tier ones, and chip manufacturers continue to seek out BlackBerry's safety-certified and highly-secure software for their next-generation vehicles," said John Chen, Executive Chairman and CEO, BlackBerry. "Together with our customers we will help to ensure that the future of mobility is safe, secure and built on trust."
Automotive brands including Audi, BMW, Ford, GM, Honda, Hyundai, Jaguar Land Rover, KIA, Maserati, Mercedes-Benz, Porsche, Toyota, and Volkswagen use BlackBerry QNX technology in their driver assistance and safety technology, connectivity modules, hands-free systems, and infotainment systems.
BlackBerry QNX solutions also play critical roles in the medical and industrial automation industries.
In vehicles, the BlackBerry QNX solutions portfolio will identify vulnerabilities in software used in automobiles; allow preventative software maintenance over the lifetime of a car; deploy malware-free applications to managed vehicles; provide insights into cybersecurity and operational events on vehicle(s) and complete remediation; ensure the identity of the vehicle's driver is known and trusted in relation to their driving profile; proactively scan the vehicle for signs of trouble or software anomalies before they lead to maintenance issues, cybersecurity vulnerabilities, or accidents; predict, prevent, detect, and remediate advanced malicious threats and malware in the vehicle infotainment system; and provide a secure and reliable foundation for safety-critical applications.
"This solution represents a major milestone in the company's continued efforts to integrate BlackBerry Cylance's innovative prevention-first, predictive security products with our vast range of industry-leading technologies," said Charles Eagan, Chief Technology Officer, BlackBerry. "With the average new car containing more than 100 million lines of code and some of the most complex software ever deployed by automakers, the need for a holistic view into the overall health and security posture of a vehicle's entire code base throughout its full lifecycle is absolutely critical. No one knows security better than us and we now have a transportation-focused framework that the industry can tap to enhance the security, trustworthiness, and safety of connected vehicles, providing peace of mind to drivers, passengers and pedestrians alike."
At CES, the partnership of BlackBerry and Amazon Web Services allowed the tasks done by BlackBerry QNX to be made by combining the "safety and security of BlackBerry's QNX real-time operating system with AWS' Internet of Things (IoT) Services in the cloud and in the car," according to a release. This also allowed BlackBerry to combine all of its offerings into one cloud-based solution.
Automaker Karma (not Fisker, Karma as in Fisker Karma but now Karma Automotive; yes, it's confusing) will be one of the first manufacturers to take advantage of this technology.
"Combining the safety and security of QNX with AWS cloud and edge intelligence has the potential to speed the development of Karma's connected car ecosystem," said Lewis Liu, Vice President, Business Development and Strategy, Karma Automotive. "It shows how Karma's vehicle platform is being used by technologists as a test-bed to prove new innovation, speed product development and ultimately to provide owners with leading cyber-security resources and predictive maintenance information via the latest artificial intelligence applications. The result is enhanced VVIP treatment for our discerning luxury-customer base, and cutting-edge technology that can lead to new business opportunities for Karma beyond pure automotive retail sales."
While many of the ideas and concepts presented at CES seem far off, this one hits a little closer to home with a real possibility for innovation in the modern automotive market.