2022 Subaru Outback Wilderness debuts adding more off-road capability to the popular wagon
Mar 30, 2021, 1:28 pm
Photo courtesy of Subaru of America Inc.
The first member of Subaru's new Wilderness family of vehicles has arrived. The 2022 Subaru Outback Wilderness broke cover this morning delivering more ground clearance, a freshly tuned drivetrain, and recalibrated safety features.
Buyers will be able to tell their Wilderness model apart from the other Outbacks on the lot by its hexagonal front grille, larger wheel arch cladding, front skid plate, unique hex-designed LED fog lights, and an anti-glare hood decal in matte-black finish. Window trim and exterior badges have a black finish and Subaru Wilderness badges are featured on the front fenders and rear gate.
The exterior is highlighted with high-contrast Anodized Copper accents. Up top is a fixed ladder-type roof rack system with a 700-pound load limit.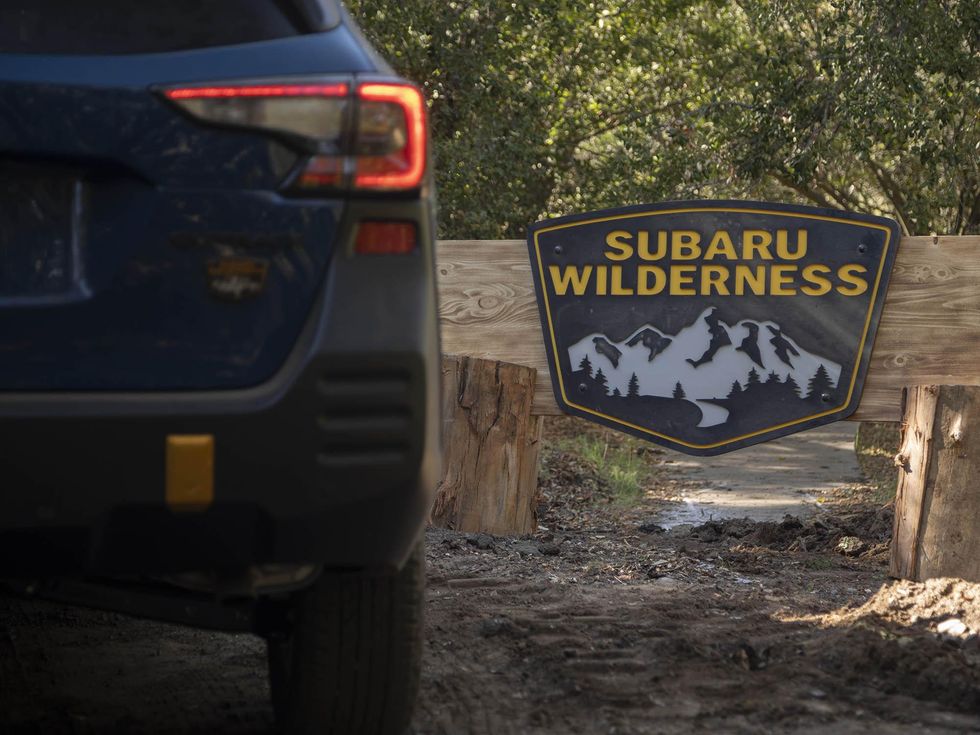 Wilderness is a new brand from Subaru.Photo courtesy of Subaru of America Inc.
A new paint color, Geyser Blue, is available exclusively on the wagon. It's inspired by Subaru's rally heritage and the scenery found in the U.S. National Parks.
The 2022 Outback Wilderness offers 9.5 inches of ground clearance, a 0.8-inch upgrade over the 2021 Outback. Redesigned front and rear bumpers give the wagon better approach angles than its traditional Outback counterpart extending from 18.6 degrees to 20.0, with ramp breakover angle shifts up from 19.4 degrees to 21.2 degrees, and departure angle extends from 21.7 degrees to 23.6 degrees.
Its suspension has been tuned to improve stability over rough terrain while still delivering traditional Subaru comfort and handling on the open road. Front and rear shock absorbers have been lengthened to allow for more suspension travel.
The wagon's revised rear differential has a final drive ration of 4.44:1 and works with the car's continuously variable transmission (CVT) to deliver equivalent ratios at the front and rear wheels. The combination allows for more low-end torque at the wheels allowing the car to climb grades of up to 40 percent on a gravel surface.
A pressure sensor improves low speed control. Standard dual-function X-Mode includes Snow/Dirt and Deep Snow/Mud modes. Exclusive to the model, a new feature allows X-Mode to switch from low speed to managed speeds over 25 mph without the interruption of power or performance.
The car rides on exclusive 17-inch alloy wheels that feature a matte black finish and are wrapped in Yokohama Geolander all-terrain tires. The tires are embossed with raised white letters as a nod to the original Outback. A full-size spare tire is stored under the cargo area.
Each Outback Wilderness has Subaru's turbocharged 2.4-liter four-cylinder engine under the hood that produces 260 horsepower and 277 pound-feet of torque. There's an eight-speed manual mode shifter with steering wheel paddle shifters for convenience. The turbo gets an EPA-rated 22 mpg int he city and and 26 mpg on the highway. The car is rated to tow up to 3,500 pounds.
The Outback Wilderness also offers features from other Outback grades including a front view camera, LED rear gate light, and a hands-free power liftgate.

Like the Outback Onyx Edition, the interior of the Outback Wilderness features Subaru StarTex water-replant upholstery that's designed to be easy to clean and wear hard. Anodized Copper-finish accents make their way into the cabin as well. Touch points usually finished in chrome have been switched over to Gunmetal Gray in the new model.
Under the driver's feet are brushed aluminum pedals and all-weather floor mats with the Subaru Wilderness logo. In the cargo area, the rear seatback is wrapped in a waterproof material, and a waterproof rear cargo tray protects the load floor.
Each model comes standard with the largest infotainment touch screen available in a Subaru today. The 11.6-inch screen features Apple CarPlay and Android Auto integration, multimedia and climate control functionalities, the ability to control X-Mode settings, a rearview camera, satellite radio, and more. Navigation is available, along with a power moonroof and reverse automatic braking tech as part of an add-on package.
A variety of accessories have been added to the Subaru catalogue for the Outback Wilderness including aluminum or steel skid plates, a rear differential protector, and roof racks.
Pricing for the 2022 Outback Wilderness will be announced later this year.