Jeep Wagoneer, Grand Wagoneer reborn as 3-row SUVs with powerful V8s and premium features
Mar 11, 2021, 11:04 am
Photo courtesy of Stellantis
The 2022 Jeep Wagoneer and Grand Wagoneer are exactly as expected, and there's not anything wrong with that. The two new SUVs, which revive model names from the past, are carving out new territory for Jeep. The brand that has built its reputation on rough, ready, and rugged vehicles will now be moving into premium SUV territory.
Jeep is positioning the 2022 Wagoneer to compete with other large SUVs like the Chevrolet Suburban and Nissan Armada while the 2022 Grand Wagoneer aims to compete against premium and luxury full-size SUVs including the GMC Yukon Denali and Cadillac Escalade.
The automaker sees Wagoneer lineup as an extension of its brand, but not fully of the brand. You see, you won't find the word Jeep anywhere on the Wagoneer or Grand Wagoneer. It's similar to the way GMC has positioned Denali and Land Rover publicizes its Range Rover models.
Design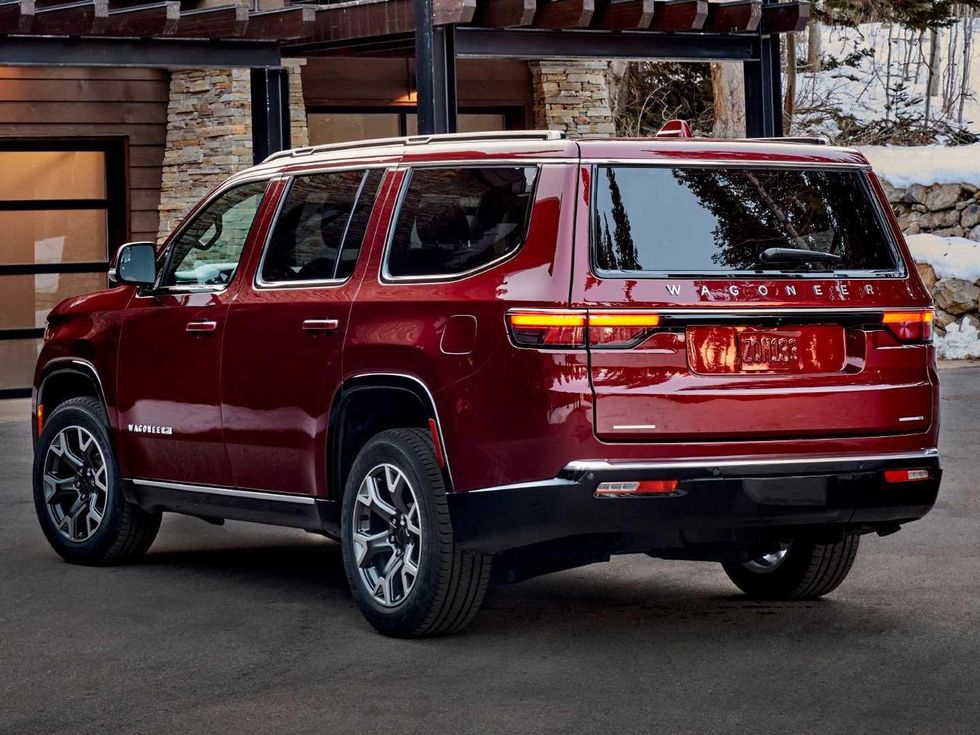 Photo courtesy of Stellantis
Both models feature exterior design elements that are Jeep signatures. There's the seven-slot grille that ties into the entire Jeep product line family. On Grand Wagoneer it gets paint-over-chrome laser-etched grille rings. Both models have front end tow hooks when equipped with the Heavy Duty Trailer Tow package.
Jeep designers created the Wagoneer family of products to be reminiscent of the original Wagoneer in both structure and packaging. This extends to the use of wood on the interior. All models offer leather trimmed seats as standard equipment.
An aluminum shift knob that features an ambient glow, sits at the base of the center console while toggle switches that control the Selec-Terrian and ride height systems sit in the center console. The start button is surrounded by a knurl-patterned bezel.
Many of the interior elements pay tribute to the Wagoneer's history, such as the two-spoke steering wheel. This modern interpretation of Wagoneer's leather-wrapped wheel features a bolstered hand grip where a third steering wheel spoke is traditionally located.
A long wheelbase version of the SUV is in the works.
Performance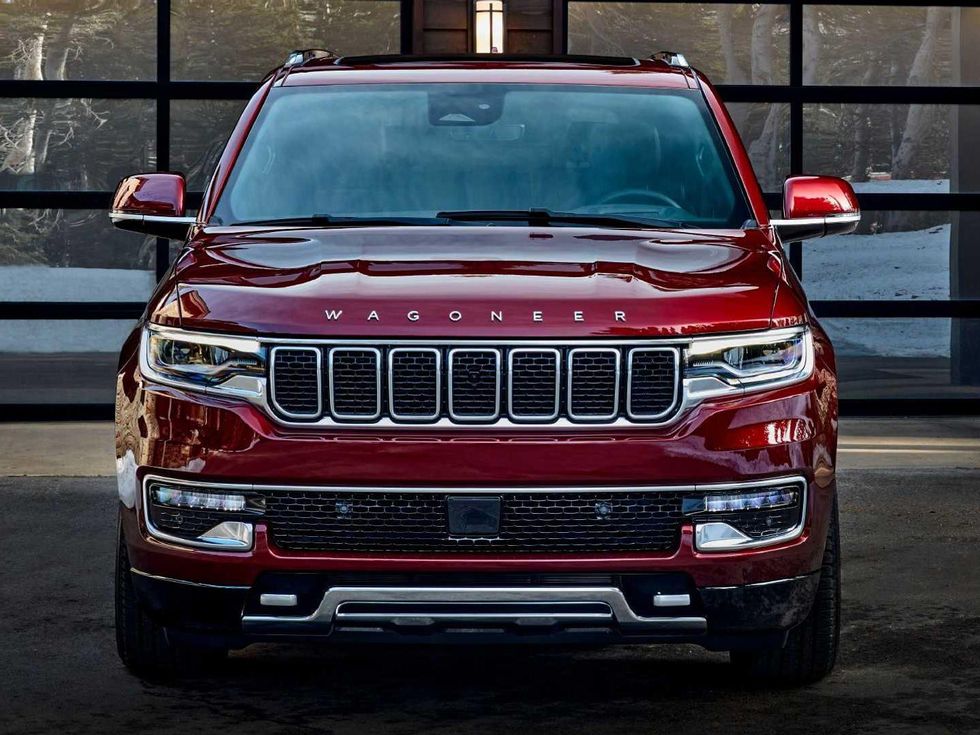 Photo courtesy of Stellantis
The new Wagoneer and Grand Wagoneer share powertrain options with the Ram pickup trucks line.
The 2022 Jeep Wagoneer has a standard 5.7-liter V8 engine under its hood that is fitted with 48-volt mild-hybrid technology. It delivers 392 horsepower and 404 pound-feet of torque. The SUV's e-torque system is the first of a next-generation of the technology for the automaker. It enables up to 130 pound-feet of torque to be available at initial throttle tip-in rather than having drivers slowly ramp up to that amount, and beyond.
The model also features no-delay start/stop technology, shutting down the engine as soon as the vehicle speed reaches 0 mph and restarting the engine when required. Energy recovered during deceleration and braking is fed into a battery pack.
The 2022 Jeep Grand Wagoneer has a standard 6.4-ltier V8. It delivers 471 horsepower and 455 pound-feet of torque.
Both engines are paired with an eight-speed automatic transmissions.
The SUV has a 10,000-pound maximum towing capacity.
Drivetrain and suspension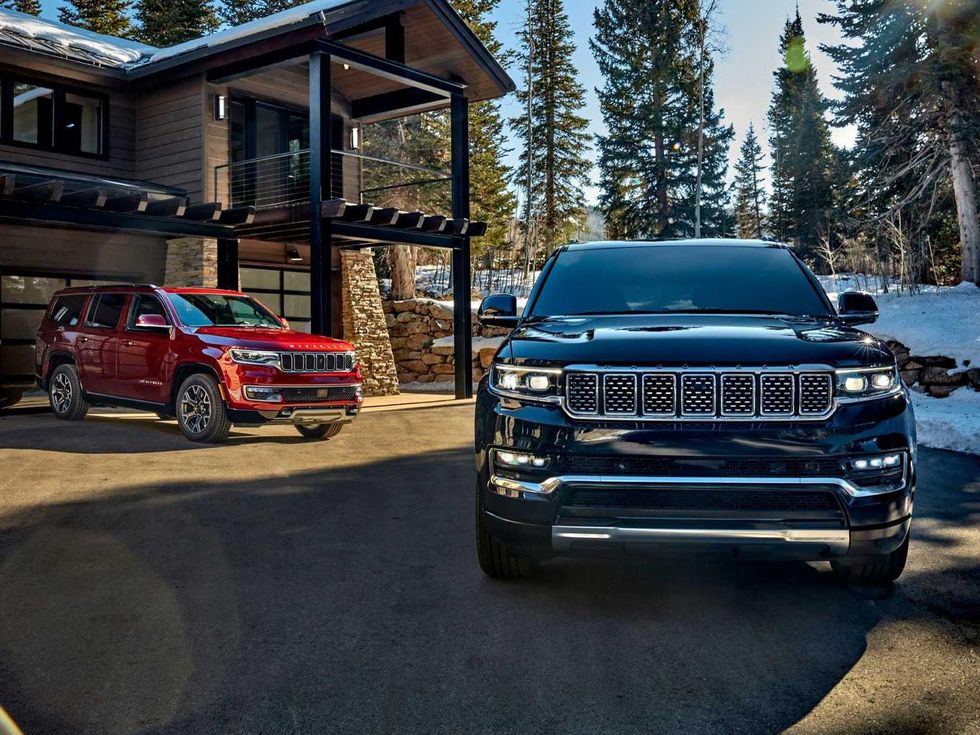 Photo courtesy of Stellantis
The on-road manners of the Grand Wagoneer are thanks in large part to its suspensions. There are lightweight composite upper control arms, aluminum lower control arms, a front stabilizer bar behind the front tires, and a standard multi-link coil-spring suspension. A front and rear coil-over shock design is standard equipment on all models. The standard steel suspension features rear load-leveling capability.
A new active/electronic tuned mass module absorbs more vibration and movement when at idle.
Jeep is making the Wagoneer and Grand Wagoneer available with the buyer's choice of three available four-wheel drive systems: Quadra-Trac I, Quadra-Trac II, and Quadra-Drive II). Quadra-Trac I delivers full-time four-wheel drive without any switches to push or levers to pull. Quadra-Trac II has a two-speed transfer case and uses a variety of sensors to determine tire slip to take corrective action. Quadra-Drive II, with a rear electronic limited-slip differential delivers industry-leading tractive capability.
A mechanical limited slip differential is standard on vehicles with Quadra-Trac I and Quadra-Trac II systems.
Select-Terrain, a drive mode selector, is standard on models equipped with Quadra-Trac II, and Quadra-Drive II. It features five settings: Auto, Sport, Rock, Snow, and Sand/Mud.
Selec-Speed Control technology allows for measured hill ascent and descent. Paired with Electronic Range Selec, the tech allows drivers to leave the accelerating and braking up to the vehicle while handling just the steering.
The available Quadra-Lift air suspension adds up to 3.6 inches of lift that is supported by four-corner air springs. Quadra-Lift operates automatically, or may be controlled manually with console controls. There are five Quadra-Lift system settings:
Normal Ride Height: 8.0 inches of ground clearance
Off-road 1: 9.0 inches of ground clearance
Off-road two: 10.0 inches of ground clearance
Park Mode: 6.4 inches of ground clearance
Aero Mode: 7.4 inches of ground clearance
When the vehicle is operating in Eco Mode, it lowers itself to Aero Mode further enhancing vehicle aerodynamics for optimum efficiency. As the SUV reaches 35 mph, a standard active front air dam extends downward 3.5 inches.
Trailer Hitch Line-Up Assist technology works with the air suspension system to ensure an easy trailer connection.
The all-new 2022 Wagoneer and Grand Wagoneer feature a 25-degree approach angle, 24-degree departure angle, 22-degree breakover angle and a ground clearance of 10 inches. This combination enables up to 24 inches of water- fording capability.
Seating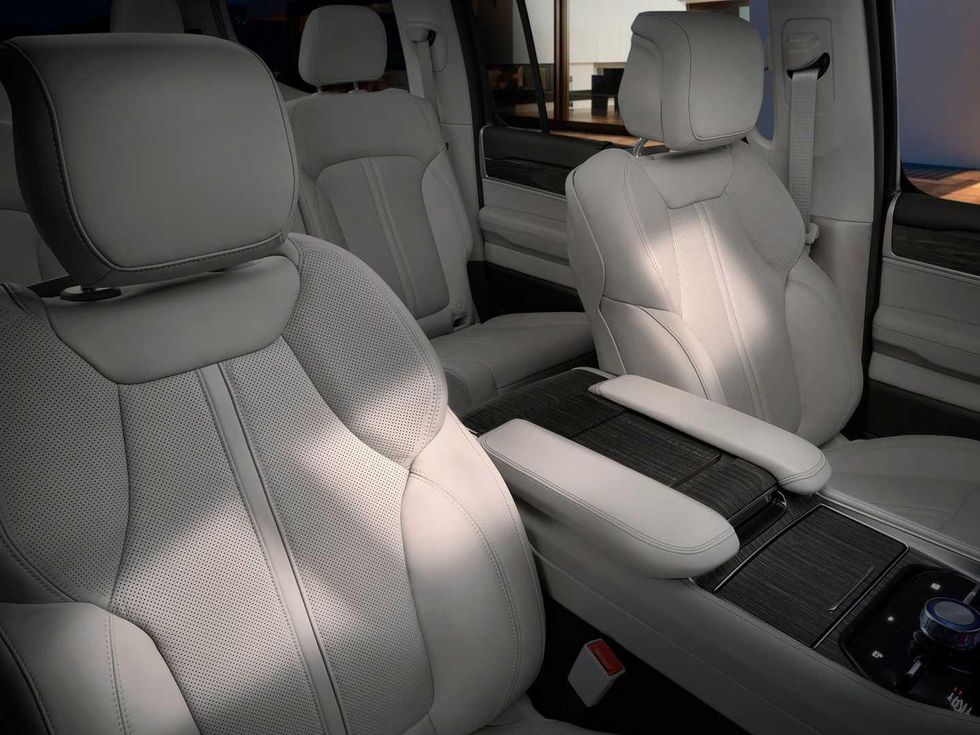 Photo courtesy of Stellantis
Seating for up to eight passengers is available on all models. The third row seat is properly spacious for the vehicle's full-size status. Front- and second-row captain's chairs are available on Wagoneer and standard on Grand Wagoneer.
Wagoneer and Grand Wagoneer offer best-in-class overall passenger volume, total volume (passengers and cargo behind the third row), unsurpassed second- and best-in-class third-row head and leg room, and the most cargo volume behind the third row.
Getting to the third row is made easier by the second-row seat's power release Tip n' Slide function which creates more space for passengers to get to their seat. Configuring the third row for passengers or cargo is easy, as the seat can both recline and fold flat.
Technology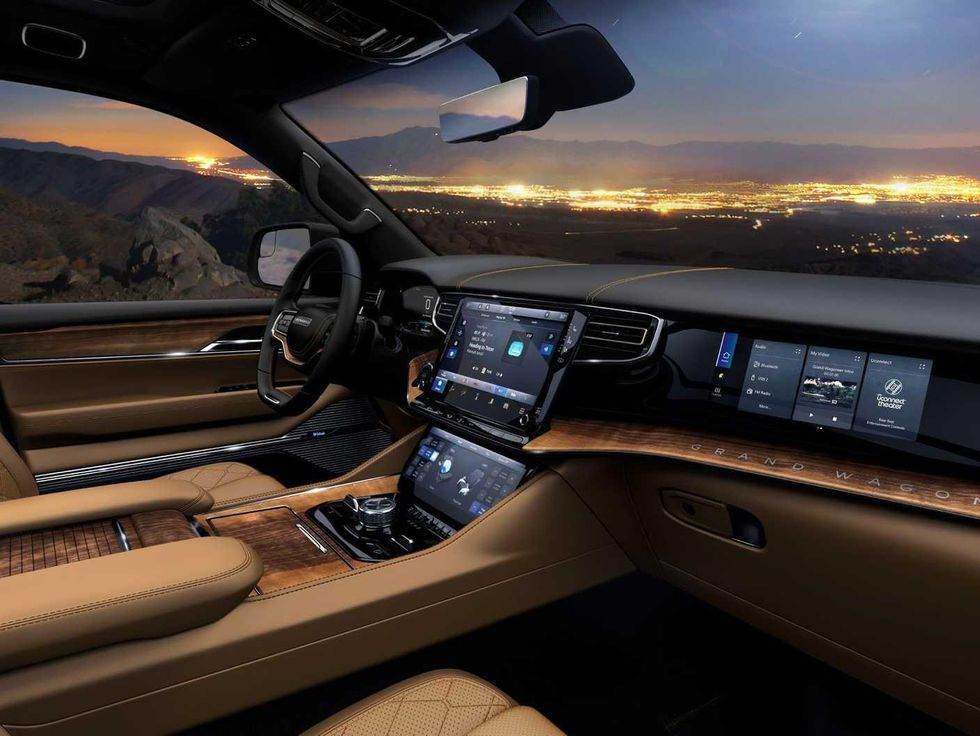 Photo courtesy of Stellantis
Wagoneer and Grand Wagonner both have the new Connect 5 infotainment system, a digital rearview mirror, Rear Seat Monitoring Camera, head-up display, frameless digital cluster, and a McIntosh audio system.
Uconnect 5 is built on an Android suystem, is capable of over-the-air updates, and has operating speeds five times faster than the previous edition. You can learn more about Connect 5 here.
Alexa "Home to Car" functionality, simultaneous connectivity for two Bluetooth-enabled phones, wireless Apple CarPlay and Android Auto, SiriusXM 360L, navigation, and a Wi-Fi hot spot are available.
Amazon's Fire TV with Auto is included. The Jeep vehicles are the first application of the technology. With Fire TV for Auto built-in, parents also have access to Amazon Kids+.
An available 10.25-inch passenger screen features four major functions: Co-Pilot (navigation, device management), entertainment (via HDMI or Rear Seat Entertainment control), and the ability to view the exterior vehicle cameras, and Fire TV for Auto. When equipped with front passenger display, Relax Mode is available while the vehicle is in park and offers occupants an immersive experience by combing dramatic, multi-screen visuals with ambient lighting across the entire cockpit. There are five videos to choose from and each is inspired by natural wonders or phenomenon.
The SUV's rear seat monitoring camera offers functionality like that in the Honda Odyssey. It is accessible through the infotainment touch screen and features a zoom-to-seat function. Memory setting functions keep the zoomed image focused on the most recent position viewed, Three infrared lights surround the camera, and illuminate the cabin in low-light conditions. The system automatically switches between day and night modes.
Interior mood lighting features two zones (upper and lower), each available with five colors: White, Blue, Aqua, Gold and Amber and selectable through the touchscreen.
McIntosh Enterainment Systems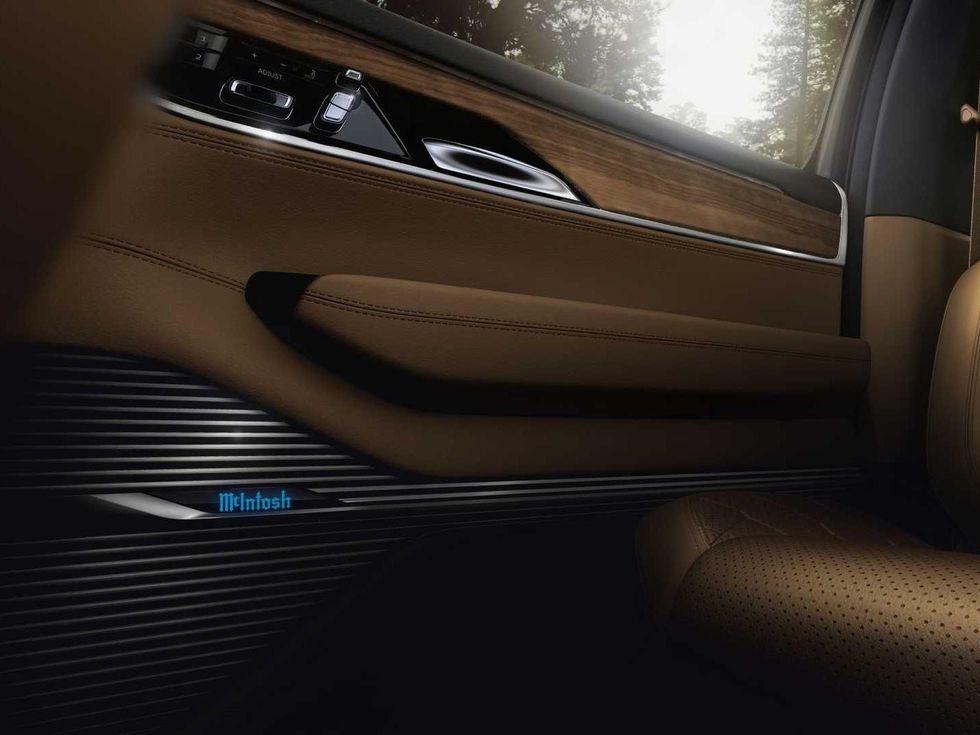 Photo courtesy of Stellantis
The MacIntosh Entertainment System in the Wagoneer and Grand Wagoneer is available in two different performance levels.
Wagoneer Series III and Grand Wagoneer Series I and Series II models get the McIntosh MX950 Entertainment System, a custom-tuned 19-speaker system, including a 10-inch subwoofer, which are strategically placed throughout the interior, and powered by a 17 channel 950-watt amplifier. It is available on Grand Wagoneer Series I and Series II, and standard on Grand Wagoneer Series III.
The available McIntosh MX1375 Reference Entertainment System employs 23 specifically tuned speakers, including one of the highest performing 12-inch subwoofers in the industry, is powered by a 24-channel 1375-watt amplifier, with dedicated amp channels to drive active speakers, creating a tailored and immersive 3D Adaptive Sound Processing that uses algorithms to asses source material and selectively apply 3D effect based on the type of the content.

Jeep worked with McIntosh to match the aesthetics of the audio system completes with the interior design of the vehicle. In Grand Wagoneer, the McIntosh logos appearing on the door speaker grills are backlit in the brand's signature blue color, adding to the ambiance created by theinterior's custom ambient lighting. Completing the experience are the signature blue meters with dancing needles and power guard notification displayed on all McIntosh home equipment, which is also integrated in the radio central display. The system is available on Wagoneer Series III and all Grand Wagoneer trim levels.
Safety
The Wagoneer and Grand Wagoneer offer more than 120 safety and security features. Among the offerings are:
Automatic Emergency Braking with pedestrian and cyclist detection Adaptive Cruise Control with Stop and Go
Active Lane Management
Blind-spot Monitoring
Rear Cross Path detection
Rear park assist sensors with stop Switch-activated electric park brake
A number of advanced driver-assist systems (ADAS) are available on the models including Active Driving Assist, Hands-free Active Driving Assist, and ParkSense Automated Parking System.
Active Driving Assist is Stellantis' name for Level 2 automated driving capability. Grand Wagoneer is available with Active Driving Assist for hands- on-wheel and eyes-on-road automated driving using lane-centering with adaptive cruise-control. The system uses multiple sensors, including radars and cameras to dictate appropriate roads for the technology.
Hands-free Active Driving Assist (late availability) offers hands-off driving at all speeds and lane centering on approved roadways, but the driver will still need to be able to take over control at a moment's notice. The system will predictively slow the vehicle down in tight curves, automatically resume control after driver override, and verify that the driver is paying attention to the road.
Night Vision with Pedestrian and Animal Detection uses thermographic technology to augment the reach of the vehicle's headlamps. It works similarly to the General Motors night vision technology.
Intersection Collision Assist helps detect vehicles approaching from the driver's left and right, when nearing a crossroad. Four radar sensors and one camera determine if a collision appears imminent, prompting the system to provide audible and visual alerts. If the driver does not respond, the system automatically activates the vehicle's brakes. The feature is available on Wagoneer and standard on Grand Wagoneer models.
There are three LATCH positions for safety-seat placement when the vehicle is configured with a second-row bench.

2022 Jeep Wagoneer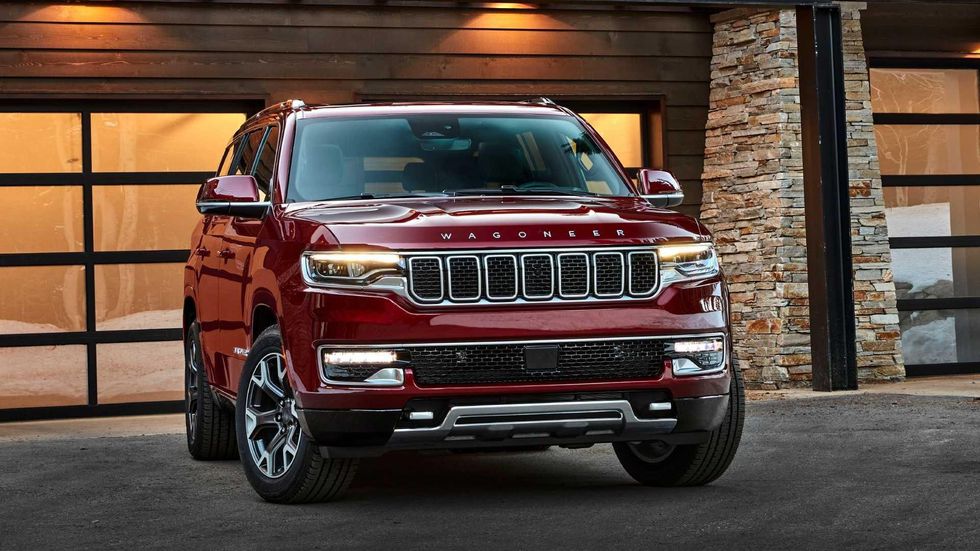 Photo courtesy of Stellantis
The 2022 Wagoneer will be sold in Series I (late availability), Series II, and Series III grades.
Jeep is giving the Wagoneer LED headlights and fog lamps, accent badging, and a standard side step. It will have four steel skid plates that protect the front axle, transfer case, fuel tank and rear stabilizer bushing (with the Advanced All-Terrain Group).
LED daytime running lights sit on either site of the grille and are set against a Gloss Black background. A full suite of exterior LED lights with Dynamic Turn Signal, including premium LED headlamps, fog lamps, and taillamps is available.
An acoustic laminated windshield and front door glass are standard equipment to reduce ambient noise levels. LED taillamps sit at the rear on either side of the standard hands-free power liftgate. Unique series badging is placed on the liftgate.
Wagoneer rides on standard 20-inch wheels. Buyers can upgrade to 22-inch painted and polished wheels.
The three-row SUV features a one-piece instrument panel, trip-zone climate control system; Nappa leather trimmed seats; and 12-way power-adjustable front seats with memory settings, power lumbar support, and a four-way manual headrest.
Jeeps' Wagoneer models get a 10.1-inch infotainment touch screen and a 10.25-inch fully digital instrument cluster.
2022 Jeep Grand Wagoneer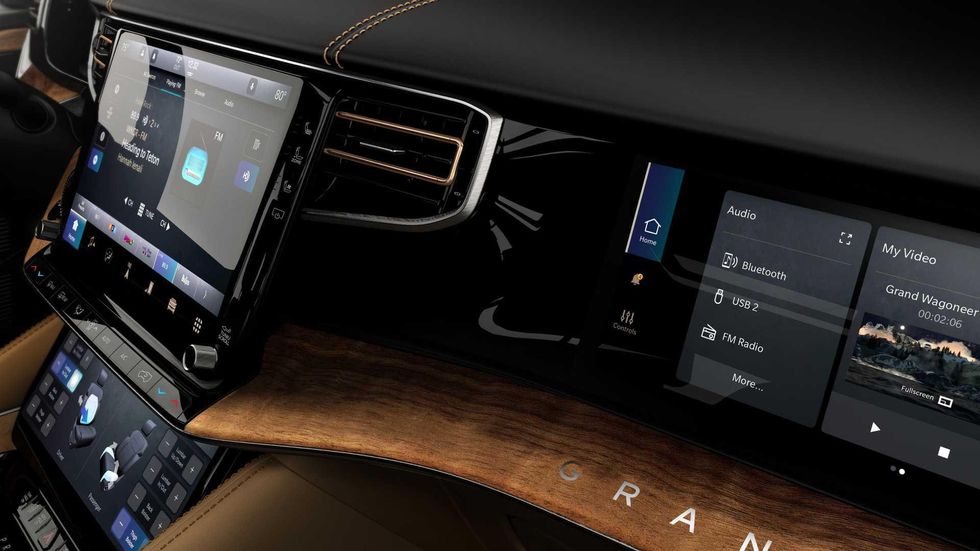 Photo courtesy of Stellantis
​Jeep boasts that "every seat in the Grand Wagoneer is a first-class experience". Jeep will sell the model in Series I, Series II, Series III, and Obsidian grades.
Grand Wagoneer Series III models feature raised aluminum badging with two-piece copperchino-accented letters in a nod to the model's top-tier premium grade status. Grand Wagoneer models also feature a two-tone black accent roof, distinctive hood, front-end, grille, unique premium LED lighting, fender flares and power retractable side-steps as standard equipment.
When owners use the remote start function, the Grand Wagoneer's exterior LED lights engage with an available full "welcome" sequence.
Grand Wagoneer models ride on standard 20- or 22-inch aluminum wheels featuring one of four different finishes and textures. A three-dimensional wheel cap highlighting the Wagoneer logo is suspended in acrylic.
Opening the doors of the Grand Wagoneer reveals and Easter egg - "EST. 1963" is inscribed on side of the instrument panel, paying homage to the first model year of the original Wagoneer.
Jeep has given the Grand Wagoneer a two-piece instrument panel. An optional Piano Black mid-bolster appears to float above a structural wing that's been crafted from aluminum and cradles the sculpted Satin American Walnut wood with "Grand Wagoneer" inlaid in metal on the passenger side of the instrument panel. Further, the start button is surrounded by a knurl-patterned bezel and wrapped in leather.
The Grand Wagoneer comes with a quad-zone climate control system, a 10.25-inch front climate control display, and a 10.25-inch rear climate control display. Grand Wagoneer models get a 12-inch infotainment screen on the dashboard and.12.3-inch all-digital instrument cluster. Each second-row passenger has access to their own 10.1-inch entertainment touch screen when the Rear Seat Entertainment system is purchased.
Grand Wagoneer Series I models come with standard Nappa leather-trimmed seats while Grand Wagoneer Series II and Series III models have Palermo leather-trimmed seats. Buyers can upgrade adding quilting and a leather-wrapped instrument panel, consoles and door panels with accent stitching.
Grand Wagoneer comes with 24-way power front seats, including memory settings and massage, power lumbar support ,and four-way powered headrests. Passenger memory seats are also standard on Grand Wagoneer. The options list additionally includes first- and second-row heated/ventilated seats, a heated steering wheel, memory steering column, and adjustable pedals.
Buyers can upgrade their model to include a class-exclusive touchpad-controlled safe that allows for secure storage underneath the split front armrest. A storage bin is standard and a cooled storage bin is available.

2022 Jeep Grand Wagoneer Obsidian
When the Grand Wagoneer Obsidian arrives on dealership lots, it will have 22-inch black wheels, a Black Onyx grille and badging, Gloss Black exterior mirrors, body-color wheel and door flares, Dark Onyx chiseled metal instrument panel trim, Global Black instrument panel and doors, Piano Black appliqués, and a McIntosh 1,375-watt premium audio system.
Wagoneer Client Services
Jeep's Wagoneer Client Services program elevates the Wagoneer's offerings. After a customer receives their vehicle, support will continue through a VIP helpline via Wagoneer Client Services. Wagoneer Client Services include:
Five years of worry-free dealership maintenance, including oil changes and tire rotations 24/7 concierge support and roadside assistance via phone or online chat
No charge equivalent service loaner
Trip interruption coverage
VIP access to select, exclusive events
Interior and exterior vehicle cleaning and a full tank of fuel when serviced Vehicle pickup/delivery for service
Complimentary WiFi and phone charging station
Customer connectivity and convenience is enhanced further with a mobile app and in-vehicle features including:
Remote showroom, test drives and delivery for sales Scheduling sales and service appointments
Scheduling pick up/delivery for service Status updates via text
FOTA Updates including new customer features and remote diagnostics
Mopar parts for Wagoneer
As it does with other Jeep products, Mopar will support Wagoneer and Grand Wagoneer with Jeep Performance Parts and accessories. Mopar has committed to offering more than 75 factory-engineered, quality-tested parts and accessories for the all-new 2022 Wagoneer lineup. This includes a number of protective and lifestyle accessories: painted splash guards, door-sill guards, premium all-weather floor mats, a molded cargo tray, premium carpet cargo-area mat, and pedal kit. Additional detailed information on Mopar's offerings will be made available closer to launch.
Production
Each Jeep Wagoneer and Grand Wagoneer will be built in Warren, Michigan on the same line as the Ram 1500 Classic. They're scheduled to begin arriving in showrooms in the second half of 2021.
How to put a deposit on a new Wagoneer and Grand Wagoneer
Customers interested in purchasing a Wagoneer or Grand Wagoneer can go to Wagoneer.com, select a dealer, and place a $500 deposit. A Wagoneer concierge will reach out to initiate the order process, provide vehicle updates and assist with any dealer interactions.