Redesigned 2021 Toyota Mirai gets new sleek styling, 30% more range
Oct 11, 2019, 12:33 pm
The 2021 Toyota Mirai is more than just a unique hydrogen-powered sedan. It's evolved to become a thoroughly modern vehicle with a luxury level interior and extended range, complete with an exterior that seamlessly blends in with the rest of the Toyota lineup.
Built on a rear-wheel drive platform, the 2021 Toyota Mirai is the first model year in the second-generation of the hydrogen-powered sedan's lifespan. Toyota is promising that the new model will deliver a "more powerful, engaging, and even quieter driving experience."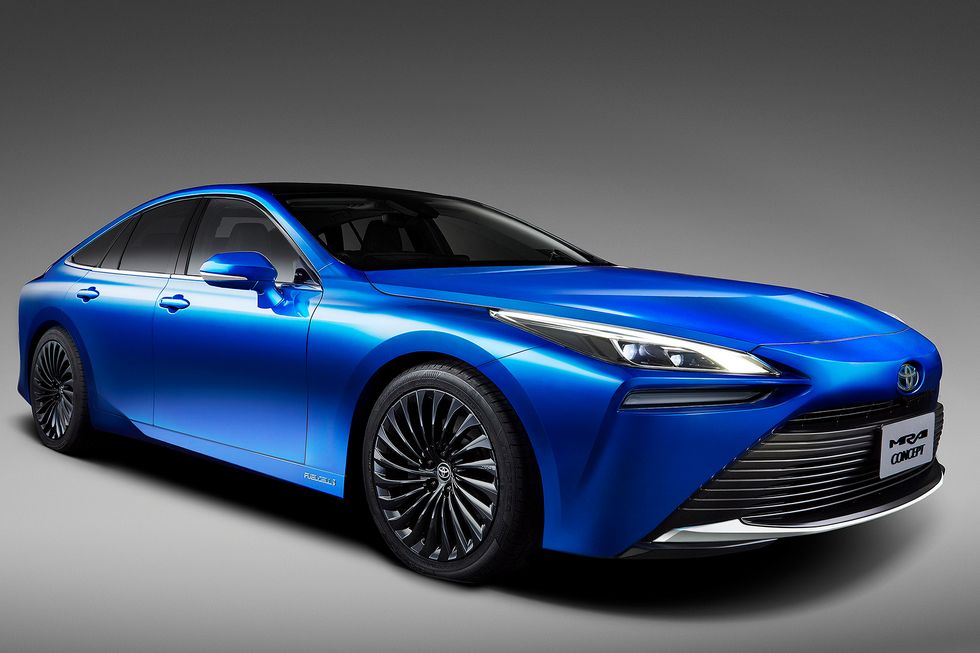 The Toyota Mirai has been completely redesigned to be flashier and have a larger range.Photo courtesy of Toyota
The Japanese automaker is boasting about a targeted 30 percent range increase in the new model. The range of the 2020 Toyota Mirai is 312 miles. The increase would put the 2021 model's range around 400 miles.
While the Mirai uses an electric motor to move the Mirai's wheels, the motor is powered by electricity generated when hydrogen is combined with oxygen. This is different than a typical hybrid vehicle powertrain which uses a combination of gasoline and electricity to power a vehicle's wheels. Only water is released by the tailpipe of a hydrogen-powered car, as opposed to the emissions of a typical internal combustion engine car.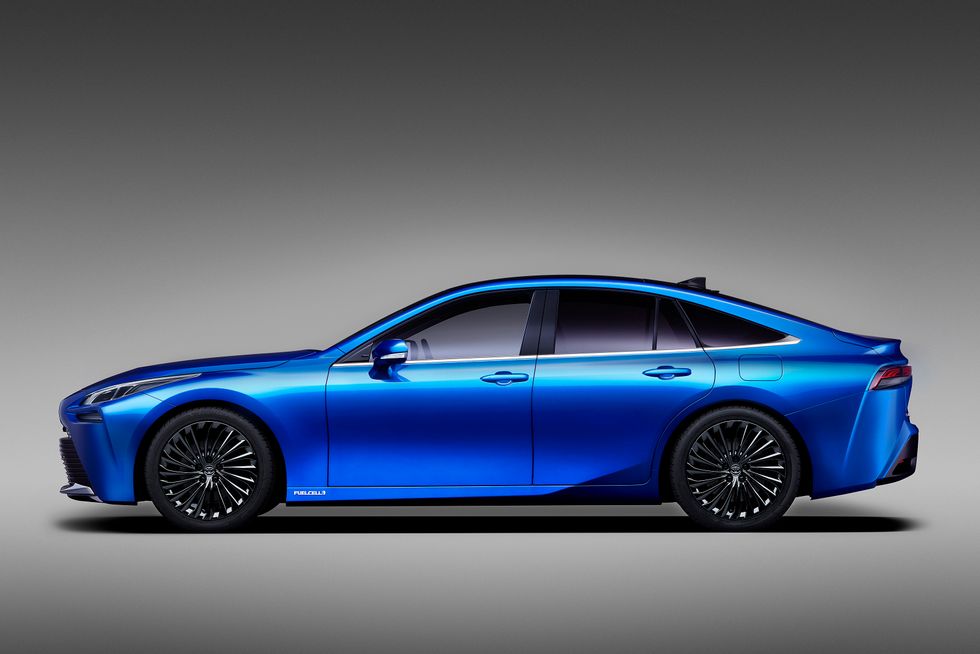 The 2021 Mirai has an elongated nose, similar to the design of the Lexus LC.Photo courtesy of Toyota
Unlike a plug-in hybrid electric vehicle (PHEV) or a battery electric vehicle (BEV), the Mirai does not need to be plugged in to get power. Its hydrogen tanks, which are extremely difficult to permeate, are filled up at a fuel pump in a similar fashion to a typical gas station.

The car is being first show wearing available 20-inch alloy wheels and a brand new blue paint job that has never before been featured on a Toyota vehicle.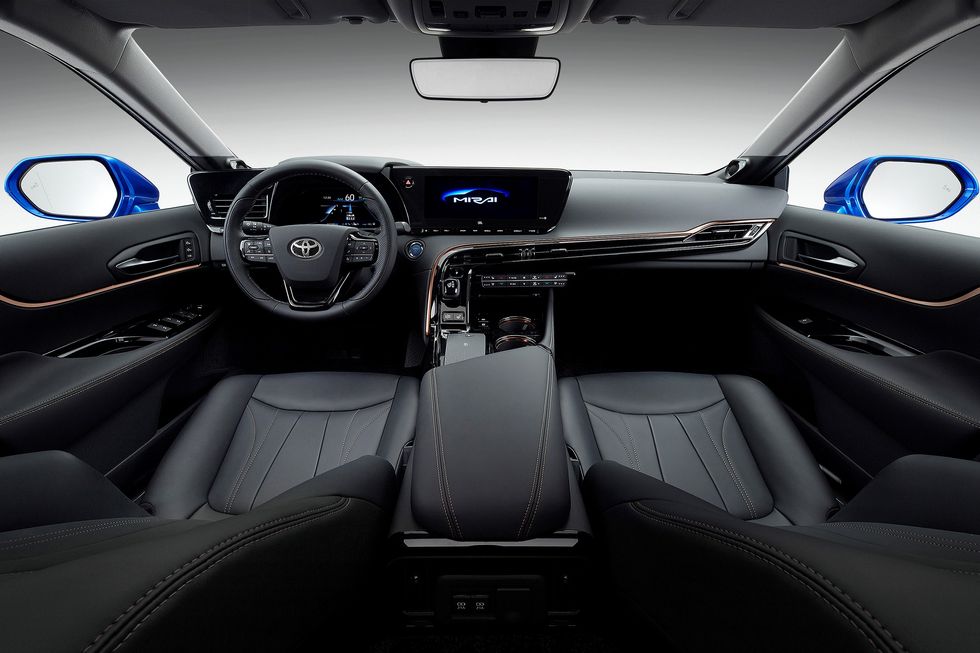 The interior of the Mirai is plush and full of luxury level appointments.Photo courtesy of Toyota
Inside, the cabin of the Mirai is modern and plush but fits in line with the current visual aesthetics and material appointments of Toyota and Lexus vehicles. It comes standard with an 8-inch digital combination meter and available digital rearview mirror. A 12.3-inch infotainment touch touch screen is standard, as are a 14-speaker JBL sound system and navigation.
Toyota is boasting that the platform change yields more passenger space than in the previous generation Mirai.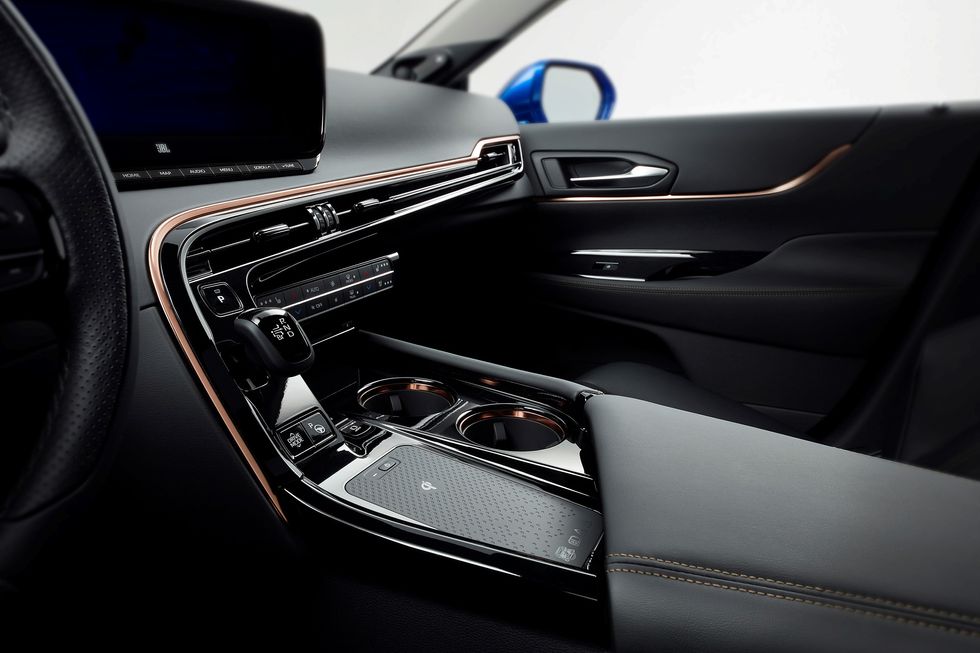 The platform change for the Mirai means that there's more passenger space.Photo courtesy of Toyota.
Pricing for the 2021 Mirai has yet to be announced. The 2019 model starts at $58,500. According to Toyota, currently about 95 percent of Mirais are leased and current lease prices for a Mirai have it priced around $350 per month with just $2,499 due at signing.