Look out Bentley, the 2021 Mercedes-Maybach GLS 600 is coming for your Bentayga customers
Nov 21, 2019, 8:16 pm
Photo courtesy of Mercedes-Benz
For when a $126,000 Mercedes-AMG GLS 63 just won't do, there's a new, even higher priced and more luxurious model for buyers to consider, the 2021 Mercedes-Maybach GLS 600.
The model takes the look and feel of a high-class sedan and combines it with the family and celebrity hauling capability of a three-row SUV. At the front of the SUV is a grille featuring fine, vertical chrome struts. Chrome extends around the sides of the vehicle highlighting the side windows. There are also chrome sill panels.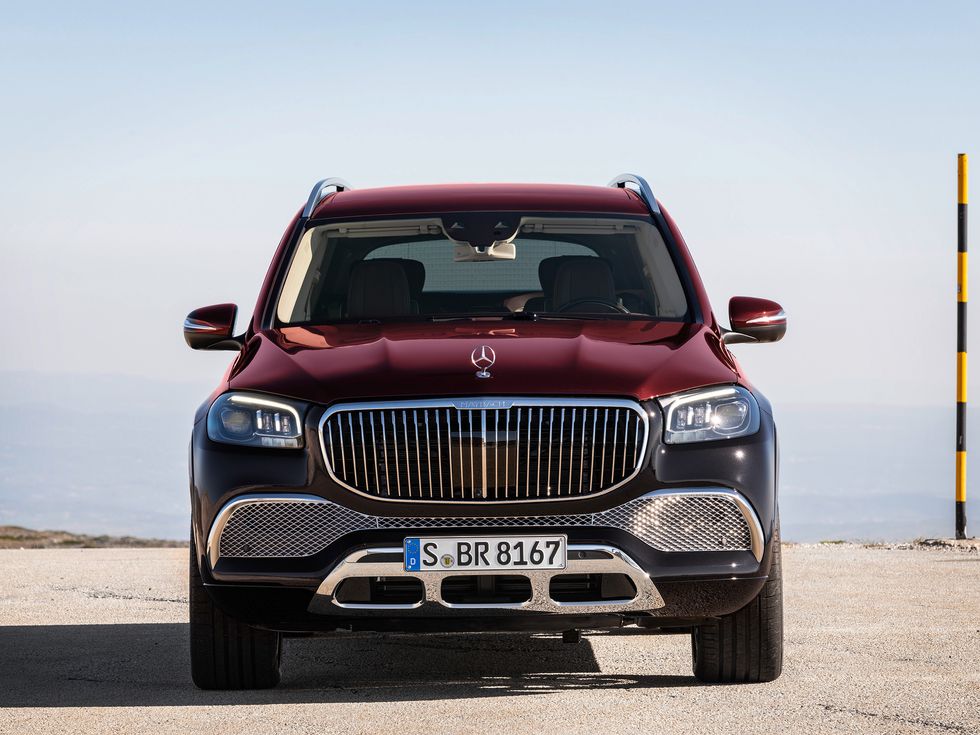 The model features a fresh take on the signature Mercedes-Maybach grille.Photo courtesy of Mercedes-Benz
GLS 600 rides on the buyer's choice of 22- or 23-inch wheels. The SUV's tailpipe trim features a small cross rib to remind those sitting in L.A. traffic that they're sitting behind any not just any SUV. A two-tone paint job is available in eight different combinations.
Mercedes has given the SUV electronically extending running boards that deploy in about one second. However, should this be too quick for the owner, the timing can be controlled via the car's MBUX infotainment system.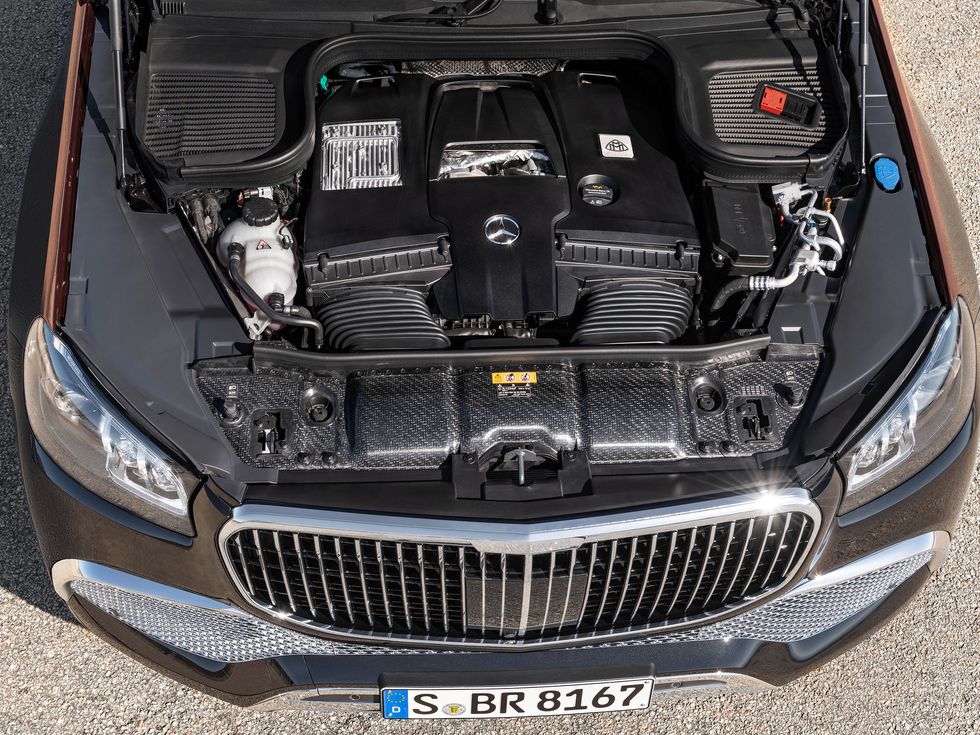 Mercedes has developed a new 4.0-liter V8 engine to power the model.Photo courtesy of Mercedes-Benz
The SUV is propelled by a newly developed 4.0-liter V8 engine that achieves 550 horsepower and 538 pound-feet of torque. It features a 48-volt EQ Boost system, which helps propel the SUV at the start making it more fuel efficient. The system also gives the SUV extra oomph temporarily by way of an additional 184 pound-feet of torque and up to 21 horsepower. That boost gets it from zero to 60 mph in 4.8 seconds.
The GLS 600 comes standard with all-wheel drive.
Inside the cabin, there are high-quality appointments at every turn. The dashboard is finished in Nappa leather but if that's not good enough, richer materials are available. Chrome-lock louvres sit inside the air vents while the leather-lined instrument panel keeps luxury in front of the driver. The model features the buyer's choice of high-gloss or open-pore wood trim elements.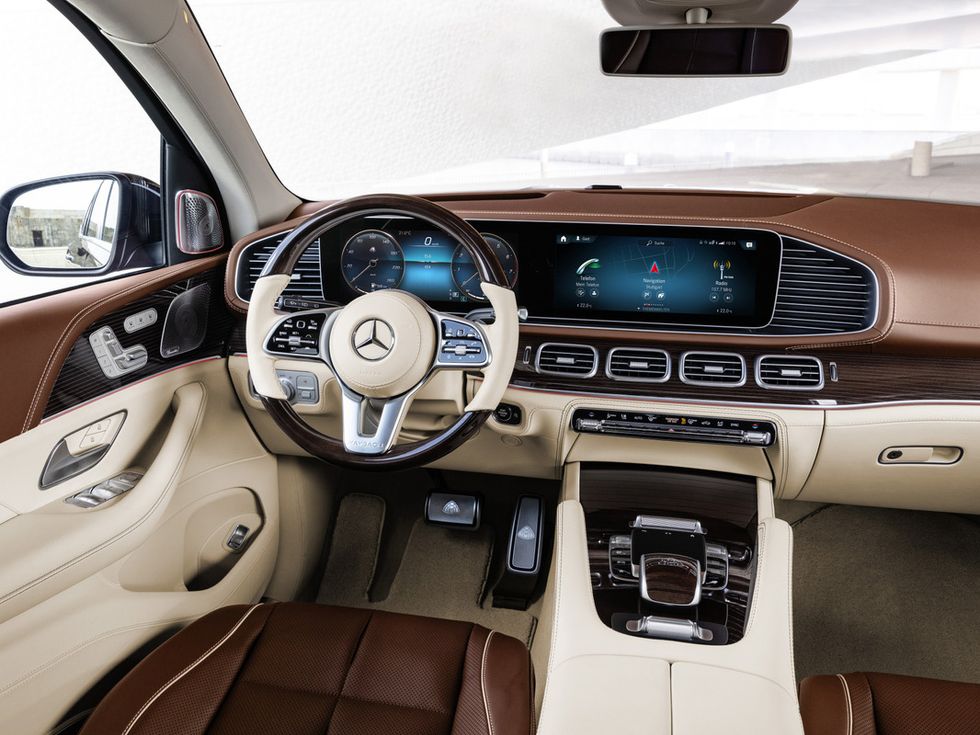 The luxurious auto features the latest in Mercedes-Benz infotainment technology.Photo courtesy of Mercedes-Benz
Interior upholstery is available in Nappa Magma Grey/Black or Nappa Mahogany Brown/Macchiato Beige combinations. The same color combinations are also available with the standard Designo Leather package. A Crystal White/Silver Grey Pearl color option will be available in the future.
Drivers can choose from Sport, Progressive, Discreet, or Maybach Classic display modes for the instrument cluster, which is divided into three separate zones. The model features rose instrument bezels.
A 12.3-inch infotainment display is standard. A touchpad in the center console controls many of the vehicle's creature comforts and convenience features. The console features two leather-covered grab handles, climate controlled cup holders, and a handset with a Maybach emblem.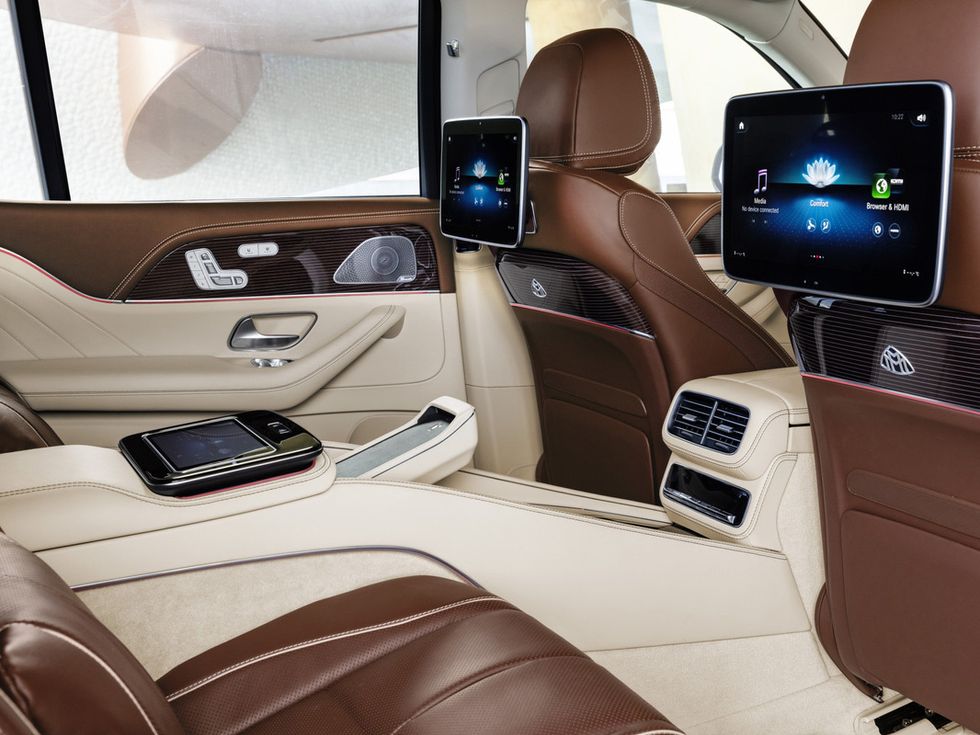 The SUV was built for those who have a chauffeur.Photo courtesy of Mercedes-Benz
There is a panoramic sunroof with an opaque blind. The SUV also has a standard Burmester High-End 3D Surround Sound System with 27 high performance speakers and 24 separate amplifier channels.
LED lights are integrated into the door panels and in the middle of the rear seat. They surround the 7-inch MBUX rear tablet, which can control of many of the vehicle's interior functions, and the panoramic roof.
Mercedes has designed the GLS to be comfortable and practical as either a people-hauler or an office space. Its cabin features some of the finest creature comforts money can buy in a SUV. Digital devices are integrated into every seat in the Executive Rear thanks to high-resolution touch screen displays.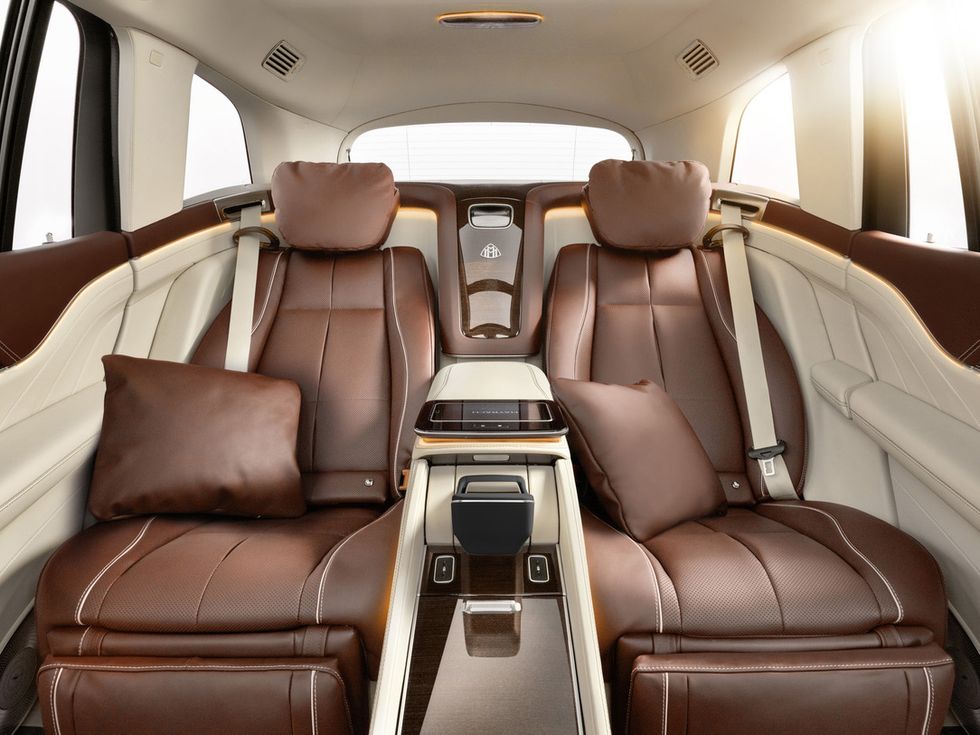 The SUV has a finely appointed interior with seats that specialize in comfort.Photo courtesy of Mercedes-Benz
The SUV seats four of five, depending on how the buyer configures it. Four-seat models have a fixed console between the rear seats. The car's long wheelbase allows for gobs of legroom and a true chauffeured vehicle experience.
There is a standard massage system for the rear Executive seats and the two front seats. It delivers to ten pressure points in each backrest, which can be combined with heating elements for the Mercedes version of a hot stone massage. Front seats have an additional four pressure points for additional massaging possibilities.
With all the refinement, Mercedes hasn't neglected the ride or drive quality of the model, equipping it with the latest in curve control, drive mode, and a chauffeur mode that features flat acceleration curve, transmission tuning for fewer shifts, a second-gear start, and no stop-start functionality.
Mercedes equips the model with a long list of standard safety and driver assistance technology including:
Active Distance Assist Distronic
Active Speed Limit Assist
Traffic Sign Assist
Route-based speed adjustment
Active Steering Assist with Active Lane Change Assist and "emergency corridor" functions
Evasive Steering Assist
Active Lane Keeping Assist
Active Blind Spot Assist with exit warning
Active Brake Assist with turning maneuver function and cross-traffic function
Pre-Safe Plus
The Mercedes-Maybach GLS 600 is made exclusively in Tuscaloosa, Alabama, home of the University of Alabama. It is expected to go on sale at the end of 2020 and cost around $200,000 though pricing has yet to be confirmed.