2021 Jeep Wrangler 4xe misses EV range estimate by 16%, is less efficient than the V6
Mar 23, 2021, 4:30 am
Photo courtesy of Stellantis
Stellantis doesn't have many electrified vehicles in its U.S. portfolio. With the exception of the Chrysler Pacifica Hybrid, the closest thing that buyers could get to an electrified power plant up until this year was the mild-hybrid Ram engines. It doesn't help that they also have one of the least fuel efficient lineups out there as well.
The 2021 Jeep Wrangler 4xe is upon us. It's a plug-in hybrid electric vehicle (PHEV) that was said to allow for a Jeep-estimated 25 miles of all-electric range.
Jeep's estimates were off. Way off. Sixteen percent off. The 2021 Jeep Wrangler 4xe only has 21 miles of all-electric range, according to the Environmental Protection Agency (EPA), the governing body over the testing of these figures. It is good for 49 MPGe and 20 mpg. With gasoline and electric power combined, the SUV's range on a tank is 370 miles.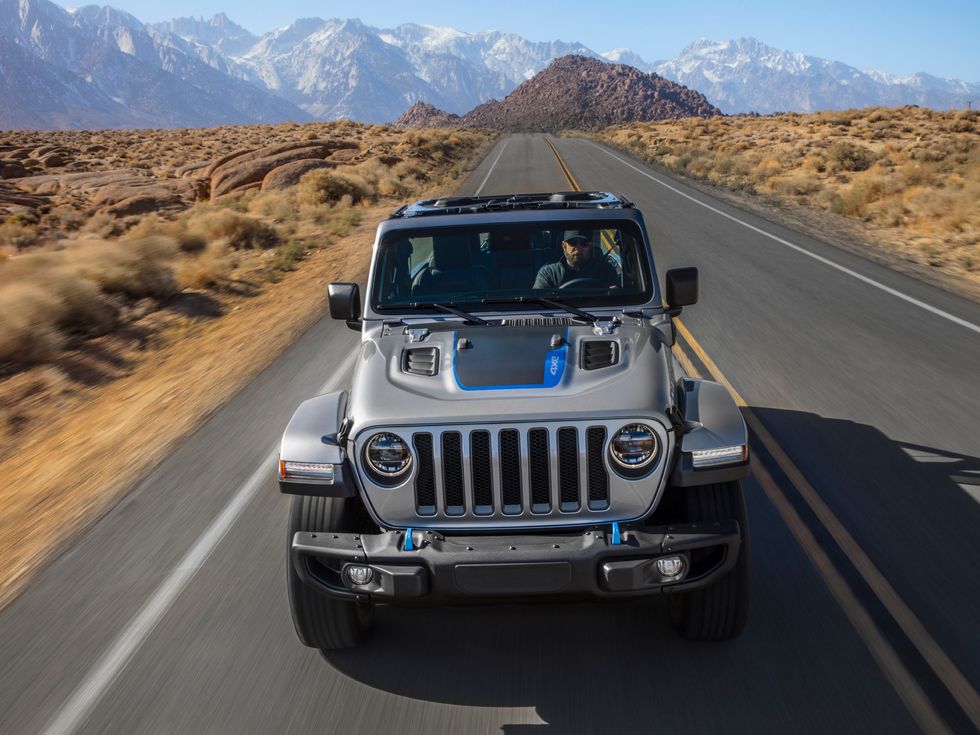 The 2021 Jeep Wrangler 4xe delivers more horsepower and torque than other Wranglers. Photo courtesy of Stellantis
The Jeep's powertrain consists of an electric motor, 17- kilowatt-hour battery, eight-speed automatic transmission, and turbocharged 2.0-liter four-cylinder engine working in unison. It delivers 375 horsepower and 470 pound-feet of torque, which is only bested by the new Wrangler 392, which comes with a V8 under the hood that offers 470 horsepower.
Adding insult to injury, it can't go as far as other Wranglers on a single tank as well. The new fuel economy figures make the Wrangler 4xe less fuel efficient than the 2021 Jeep Wrangler two-door and the 2021 Jeep Wrangler four-door. All the models come standard with four-wheel drive and have an available eight-speed automatic transmission.
When equipped with the eight-speed automatic transmission, two-door gets 22 mpg in the city and 24 mpg on the highway according to EPA estimates when equipped with a similar 2.0-liter turbo-four setup. The four-door, when equipped with the same power plant, gets 21 mpg in the city and 24 mpg on the highway. Their fuel tanks give the two- and four-door Wranglers 402 and 385 miles of range, respectively.
The Wrangler 4xe also isn't as efficient as the company's V6-powrered Wranglers. Those deliver 21 mpg combined in either two- our four-door formats. Drivers get access to 285 horsepower and 260 pound-feet of torque in both.
What's more, the Wrangler 4xe is one of the priciest Wranglers you can buy. It has a starting MSRP of $47,995.