Ford reveals that 2021 Mustang Mach-E has hit its target EPA-estimated 300-mile range
Nov 24, 2020, 9:46 pm
Photo courtesy of Ford Motor Company
Ford has announced the certification of its all-electric range numbers for its 2021 Mustang Mach-E variants by the United States Environmental Protection Agency (EPA). The good news for Ford is that the numbers meet their publicly shared expectations.
The EPA-estimated ranges for each of the four models tested:
2021 Ford Mustang Mach-E Standard-Range RWD - 230 miles
2021 Ford Mustang Mach-E Extended-Range RWD - 300 miles
2021 Ford Mustang Mach-E Standard-Range eAWD - 211 miles
2021 Ford Mustang Mach-E Extended-Range eAWD - 270 miles
"This validation by the EPA comes at a perfect time as the Mustang Mach-E is gearing up to take on the open road," said Darren Palmer, global director, Battery Electric Vehicles, Ford Motor Company.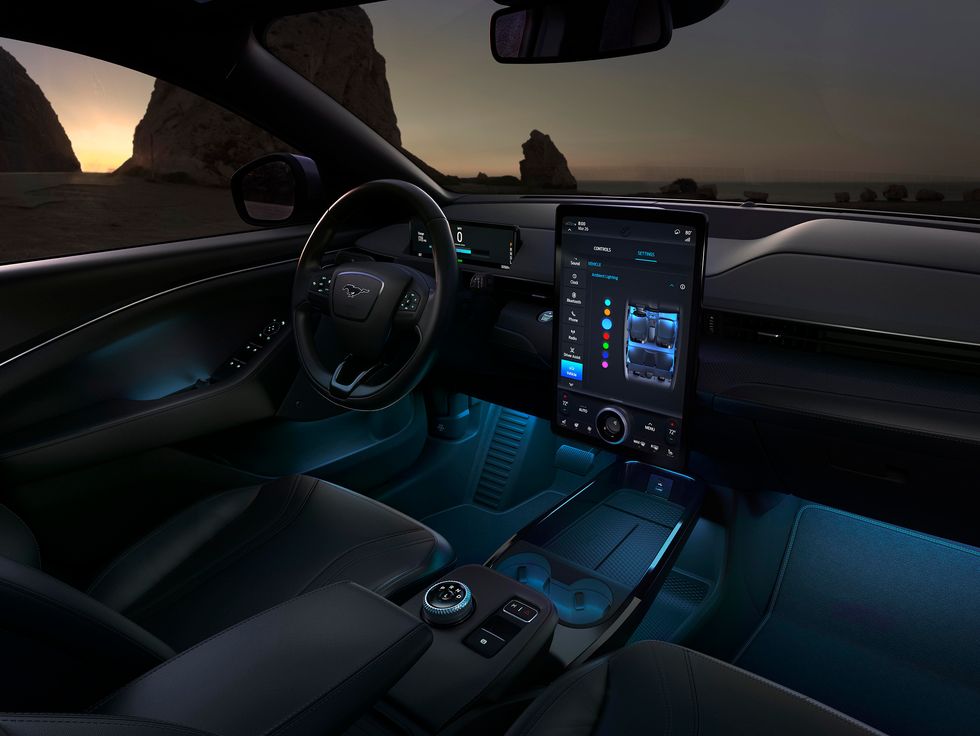 The Mustang Mach-E features a plusher interior than what you'll find in the Tesla Model Y. Photo courtesy of Ford Motor Company
There is one remaining model that is being tested. The 2021 Ford Mustang Mach-E California Route 1 is anticipated to be rated at 300 miles of range by the EPA once officials complete their tests.
There are numerous factors that go into determining the range a vehicle gets in real world driving scenarios. Actual range of the vehicle varies with conditions such as external elements, climate control operations, presence of all-wheel drive, the weight of passengers and cargo, driving behaviors, vehicle maintenance, lithium ion battery age, and the battery's state of health.
The top 300 miles of range is considerably better than most of the electric vehicles on the market today. The 2021 Audi E-Tronhas 222 mile of EPA-estimated range while the 2020 Chevrolet Bolt EV (259 miles) and 2020 Hyundai Kona Electric (258 miles) have significantly more range. The 2021 Polestar 2 falls between those with 233 miles of range. The 2021 Tesla Model Y gets more - 326 miles - while the 2021 Volvo XC40 Recharge gets far less - 208 miles. The 2022 Volkswagen ID.4 has been certified to get 250 miles of rage.
The forthcoming Nissan Ariya's range has yet to be announced but is expected to rival the Mustang Mach-E.
Customer deliveries for the Mustang Mach-E will start in December in the United States.