2021 Ford Raptor bows with familiar engine, newly engineered specialty parts
Feb 3, 2021, 11:00 am
Photo courtesy of Ford Motor Company
Ford has taken nearly all the "good stuff" in the redesigned F-150 and combined it with off-road-ready equipment to make the new 2021 Ford F-150 Raptor. The fresh iteration marks the start of the third-generation Ford Raptor with the first model debuting just 11 short years ago.
Ford will only sell the F-150 Raptor in a SuperCrew cab configuration. It has a 145-inch wheelbase and fully boxed high-strength steel frame with an aluminum body. Front and rear bumpers are steel.
Ford has given the truck a power dome hood with blacked-out grille and headlights that run the full width of the truck. The hood's new heat extractor and functional side vents were inspired by the intakes of a F-22 Raptor fighter jet. Blacked out taillights, an available tailgate appliqué, and dual exhaust outlets complete the look out back. Rigid off-road lighting is available for the front bumper.
The truck's nether regions are protected by a wider skid plate that has greater side-to-side and forward coverage than the outgoing model.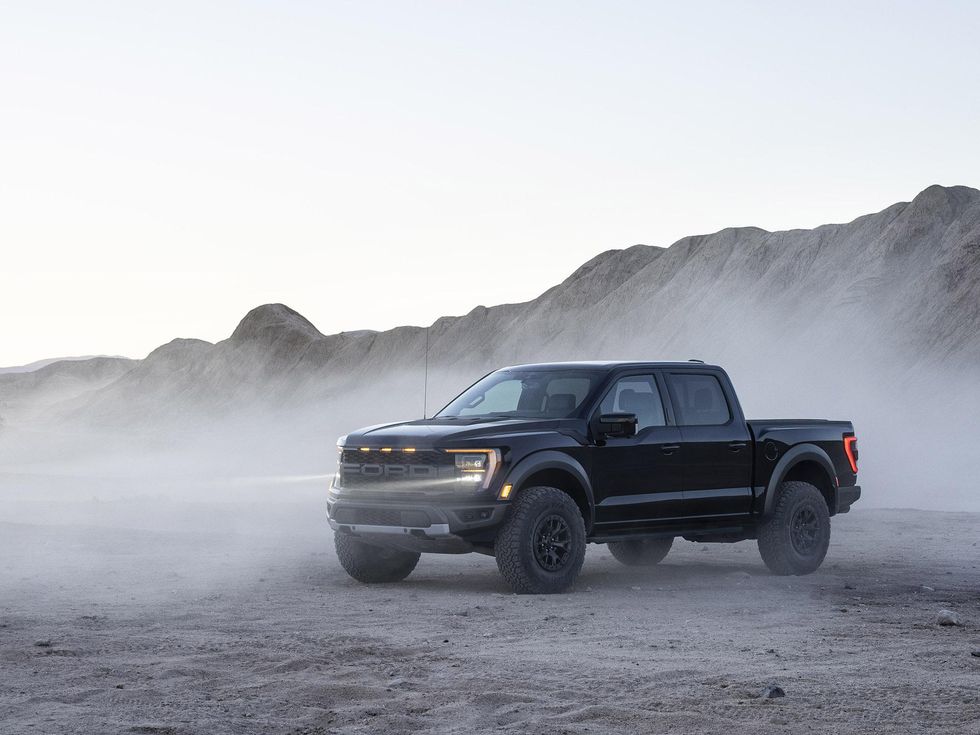 Photo courtesy of Ford Motor Company
Under the hood of the Raptor is a familiar beast. Ford has continued to install its twin-turbocharged 3.5-liter EcoBoost V6. This is the third-generation of the engine, which now features a 10.5:1 compression ratio and high-power fans built into the cooling system. The truck offers faster acceleration and better throttle responsiveness for the new generation as well.
Ford has paired the V6 with a 10-speed automatic transmission and a torque-on-demand transfer case. Standard electronic locking front and rear differentials and available Torsen front limited-slip differential are fitted with 4:10 final drive ratios. Maximum payload increases by 200 pounds, to 1,400 pounds, while maximum towing also increases 200 pounds, to 8,200 pounds of conventional towing.

Horsepower and torque figures have not been made available yet.
Ford says that the powertrain is paired with a 36-gallon gas tank, which gives it over 500 miles of range. That puts the Raptor at about 14 mpg but those numbers haven't officially come in yet. Expect to see them closer to the truck's on-sale date.
Built as a variant of the Ford F-150, the Raptor receives redesigned running gear that includes a new five-link rear suspension. That suspension is designed to give drivers more control and keep the truck feeling planted even when it's deep in the desert. It has extra-long trailing arms, a Panhard rod, and 24-inch coil springs - the longest in its class. Ford specifically designed this suspension for the new F-150 Raptor.
Whoops and landings are no problem thanks to the truck's next-gen Fox Live Valve internal bypass shocks - the largest ever installed on the Raptor. They have state-of-the-art electronic control technology that allows for position-sensitive damping adjustability. New electronically controlled base valves are race-proven with an upgraded design enabling upward of 1,000 pounds of damping per corner at desert speeds.

Ford has equipped the Raptor with its Terrain Management System's seven drive modes: Slippery, Tow/Haul, Sport, Normal, Off-Road, Baja, and Rock Crawl. These are the same as in the Bronco. Drive modes adjust steering feel, transfer case behavior, stability control, active valve exhaust, active damping system, throttle mapping, and transmission shift points.
Drivers can get a surround view of the truck by opting for its available 360-degree camera package. The camera is then easily accessible via a dashboard-mounted hard button.
Standard Trail 1-Pedal Drive allows drivers to just use the throttle when driving forward. The truck then applies the brakes proportionally as the driver lifts their foot from the accelerator. Raptor's standard Trail Control acts like cruise control for trail driving conditions, managing the throttle and braking for the driver while they focus on the steering. Bronco has this as well.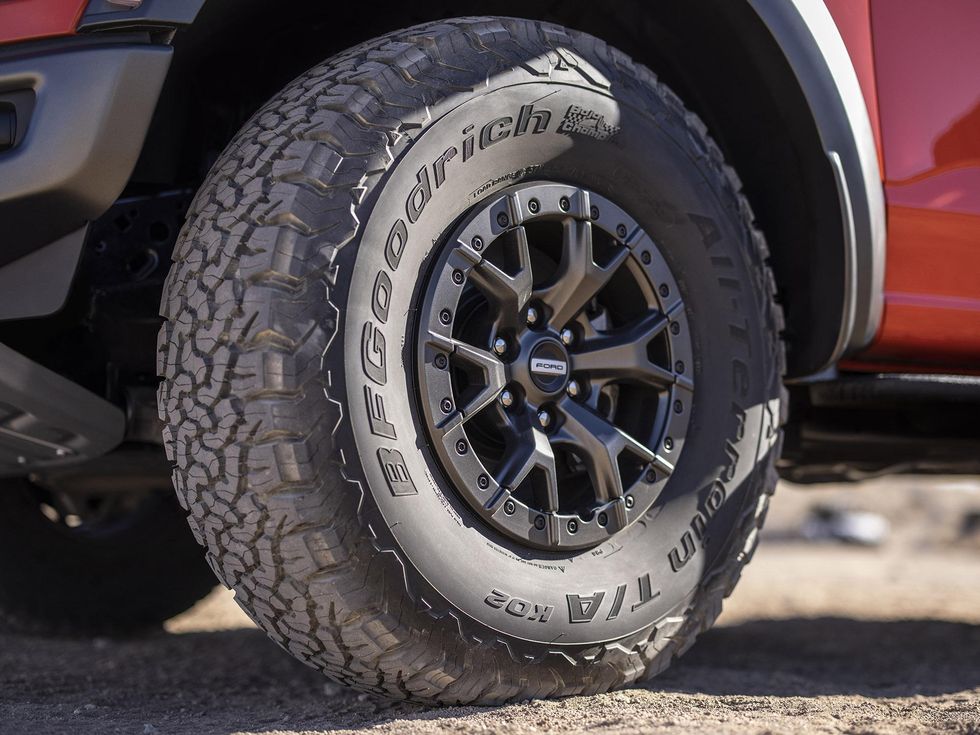 Photo courtesy of Ford Motor Company
The 3.1-inch-diameter anodized aluminum shock bodies are filled with new low-friction fluid and are designed to better resist heat buildup while reacting faster to the terrain. According to a release from Ford, "Readings from suspension height sensors and other sensors around the truck change damping rates independently at each corner 500 times per second, with the shocks responding at the same speed the human brain processes visual information."
Ford will equip the truck with the buyer's choice of either 35-inch or 37-inch BFGoodrich all-terrain T/A KO2 tires. When wearing the 35-inchers, the Raptor clears 12-inch obstacles with an approach angle of 31 degrees, maximum departure angle of 23.9 degrees, and breakover angle of 22.7 degrees. The 35-inch tires have 14 inches of wheel travel at the front and 15 inches at the rear - 25 percent more than the previous Raptor generation.
Raptor with 37-inch tires features 13.1 inches of running clearance, 33.1 degrees of approach angle, a maximum 24.9 degrees of departure angle, and 24.4 degrees of breakover angle.
Ford is offering the F-150 Raptor with its Pro Power Onboard generator system. The popular option makes available 2.0 kilowatts of exportable output to run power tools, camplights, and other equipment.
At the rear, a new three-inch equal-length exhaust system features a patent-pending built-in X-pipe, unique "trombone loop" and first-for-Raptor active valves. Ford says that the system improves the sound quality out the back end of the truck. Drivers can choose from four sound level modes: Quiet, Normal, Sport, and Baja.
The truck gets a standard 12-inch digital gauge cluster with Raptor-specific graphics and animations, off-road data, and turn-by-turn navigation capability. Ford has made the truck capable of over-the-air updates and interacting with the FordPass mobile app, which allows owners to lock or unlock their vehicle from almost anywhere, check tire pressure and fuel level, and allow control Zone Lighting, Trailer Theft Alert, Trailer Light Check, and Pro Power Onboard.
SYNC 4 controls the car's infotainment operating system and allows for natural voice control, real-time mapping, customizable information-on-demand, wireless smartphone connectivity, and apps including Ford+Alexa. Wireless Android Auto and Apple CarPlay are standard. Buyers can upgrade to an 18-speaker B&O Unleashed sound system by Bang & Olufson.
The interior is finished in much the same way as a traditional F-150, complete with features like a foldable shifter. A new steering wheel features a laser-etched logo, top centering mark and aluminum paddle shifters. Seats with large bolsters keep occupants in place. More aggressive Recaro buckets are available.
Buyers can choose from standard aluminum or an available carbon fiber interior package, which influences the look of the doors, instrument panel, and center console. Lockable, flat-fold rear storage is also available.
The 2021 F-150 Raptor will be assembled at Ford's Dearborn Truck Plant in Dearborn, Michigan, and available in showrooms this summer. Pricing will be announced closer to the truck's on-sale date.