BMW M3 Sedan and M4 Coupe reborn for 2021 with 503 horsepower
Oct 11, 2020, 1:54 pm
Up to 503 horsepower and a six-speed manual transmission. On those numbers alone, it's easy to see how the new, sixth-generation 2020 BMW M3 Sedan and M4 Coupe will be choice for spirited drivers. The natural successors of the E30 M3 will arrive in markets worldwide in the spring.
BMW will sell the cars in four variants: the RWD, manual transmission M3 Sedan and M4 Coupe and the RWD, automatic transmission M3 Competition Sedan and M4 Competition Coupe.
The M3 and M4 are getting a 48-horsepower upgrade for the 2021 model year. Competition models get a 59-horsepower and 73 pound-feet of torque upgrade over previous Competition package-equipped cars.
The M3 Sedan and M4 Coupe can accelerate from zero to 60 mph in 4.1 seconds courtesy of its 473-horsepower twin-turbocharged 3.0-liter six-cylinder engine that achieves 406 pound-feet of torque. It has a top speed of 155 or 180 mph depending on whether or not the M Driver's Package is selected. These cars are delivered with rear-wheel drive and a six-speed manual transmission. Rev matching technology is available.
Competition models are tuned to produce 503 horsepower and 479 pound-feet of torque. It takes just 3.8 seconds for those models to get to 60 mph from a standstill. The rear-wheel drive models feature an Active M differential that is connected to the Dynamic Stability Control System, as is the M xDrive system. The M xDrive system will offer the drive a choice of three modes: 4WD, 4WD Sport, and 2WD.
Both models redline at 7,2000 rpm.
The new M3 and M4 offer numerous cooling considerations for the powertrain including water and oil cooling systems that are designed to stand up to the high temperatures of track use. The models also have large front intakes to increase airflow.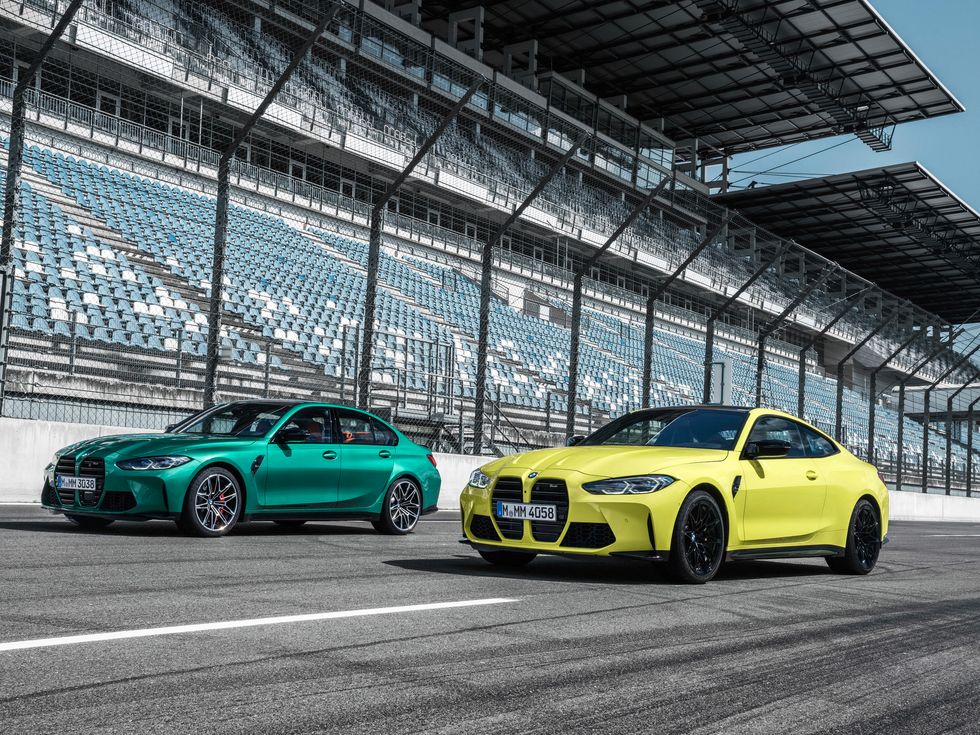 Photo courtesy of BMW
At the rear of the M3 and M4 are chrome twin exhaust tips. Competition models get black chrome twin exhaust tips. BMW has tuned the cars' exhaust. Selecting the Sport or Sport+ drive mode turns up the intensity of the exhaust sound. An M Sound button allows the driver to reduce engine note when desired and works in any drive mode.

Each model comes standard with a standard Adaptive M suspension with electronically controlled shock absorbers. The M integrated braking system offers two driver-selected settings for brake pedal feel. The M Traction Control system, part of the available M Drive Professional, introduces a integrated wheel slip limitation function of the Dynamic Stability Control system that can be adjusted through 10 stages based on the driver's preferences. The Adaptive M suspension features Comfort, Sport, and Sport+ modes.
The M3 and M4 have additional bracing to make them more rigid. Their front track has been widened, which is designed to improve stability on- and off-track.
Speed-sensitive steering assistance with a variable steering ratio combines to create the standard M Servotronic steering technology. Comfort and Sport settings give the driver basic control over the system.
BMW has freshly developed M Compound brakes on the 2021 editions. They feature front six-piston fixed-caliper brakes with 380 mm discs and rear single-piston floating-calipers with 370 mm disks. The calipers are painted in blue metallic but may be ordered in black or red; all with the M logo.
The optional M Carbon ceramic brakes deliver even stronger braking power with greater fade resistance, enhanced thermal stability and extremely high resistance to wear. Their gold painted calipers are complemented by front 400 mm discs and rear 380 mm disks.
Drivers can choose from Comfort or Sport braking modes, and utilize a variety of new and additional braking technologies to assist with on-track prowess.
Each M3 and M4 rides on forged M light-alloy wheels. They are 18-inches in the front and 19-inches in the rear. Non-runflat performance tires sized 275/40ZR18 front and 285/35ZR19 rear complete the standard package. The Competition models feature forged M light-alloy 19-inch front and 20-inch rear wheels 275/35ZR19 and 285/30ZR20 non-runflat performance tires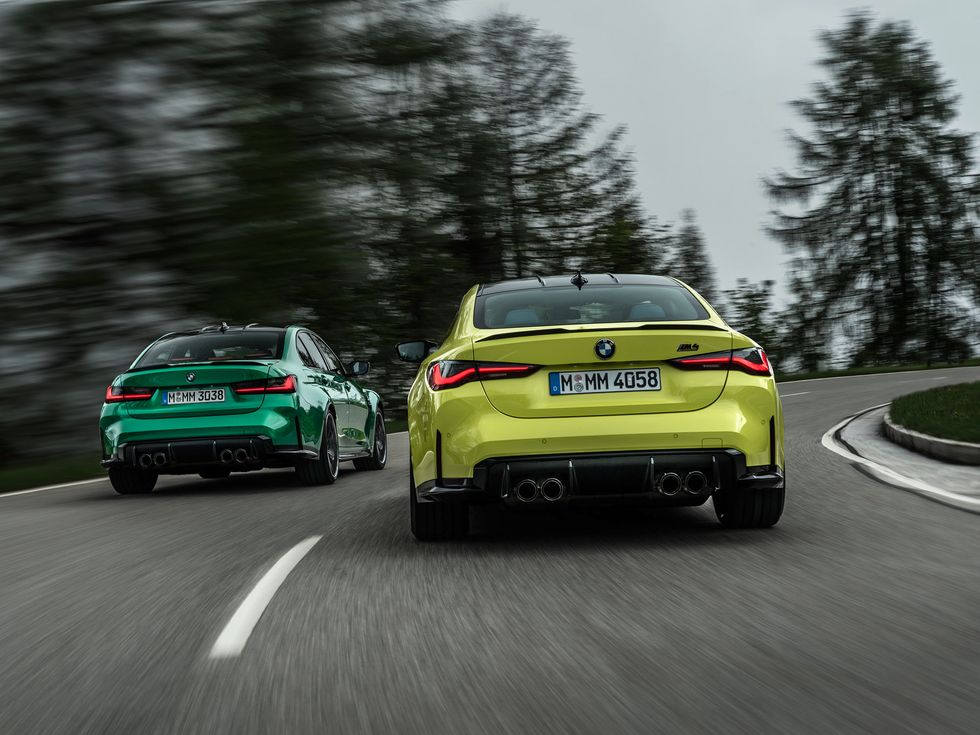 The two cars feature black exterior accents that help set them apart from their more traditional counterparts.
Photo courtesy of BMW
The M3 and M4 are additionally differentiated from the traditional 3- and 4 Series by their exclusive exterior paint colors, forged M light-alloy wheels, a carbon fiber roof, and the optional M Carbon exterior package. There are also flared fenders, high-gloss black accents, and a carbon-fiber-reinforced plastic roof.
BMW is making a M Carbon exterior package available it features inlays for the front air intakes, a rear diffuser, exterior mirror caps and a rear spoiler made of the same materials as the roof.
A Extended Shadowline trim gives the model dark finish for the exterior mirrors, rear spoiler, and tailpipes.
The interior of the car has typical M details including red accents for the M buttons on the M leather steering wheel and the start/stop button on the center console. A anthracite-colored headliner and Aluminum Tetragon trim are standard. Carbon fiber accents feature throughout the cabin, including on the paddle shifters.
There are newly developed heated M sport seats with fine-grain Merino leather trim up front. M Carbon bucket seats are available and feature multi-point restraints.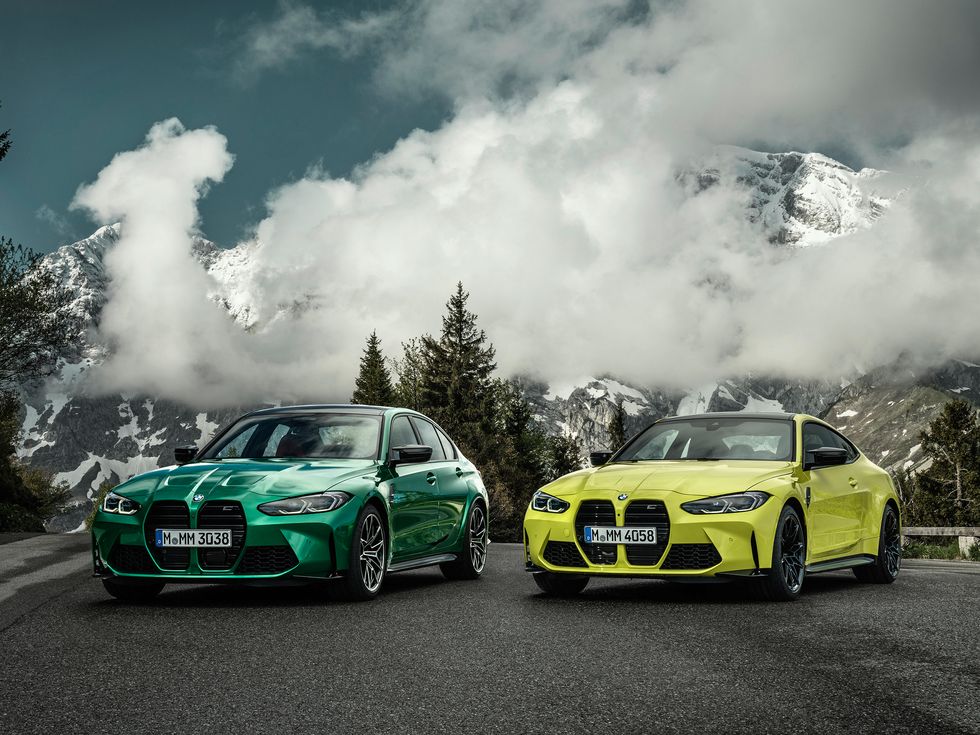 Both models wear BMW's new grille.
Photo courtesy of BMW
At the center of the dashboard is a 10.25-inch infotainment screen while a 12.3-inch digital cockpit sits in front of the driver. The infotainment system includes cloud-based navigation and the ability to interact with Apple CarPlay and Android Auto wirelessly. There are M-specific displays for the instrument cluster and optional head-up display.

The new M3 and M4 are equipped with automatic post-crash braking, fatigue and focus alert, lane departure warning, speed limit information, active blind spot detection, rear cross-traffic alert, and rear collision preparation as standard.
The 2021 M3 and M4 go on sale in March. MSRP pricing is $69,900 for the M3 Sedan, $72,800 for the M3 Competition Sedan, $71,800 for the M4 Coupe and $74,700 for the M4 Competition Coupe. There is an additional $995 destination fee on each vehicle.