Porsche rolls out 2020 Macan GTS, a new option for buyers looking to spend $70k on a subcompact SUV
Dec 28, 2019, 11:32 am
Photo courtesy of Porsche Cars North America, Inc.
If you raised your hand when the teacher asked, "Who wants to spend $70,000 on a subcompact semi-performance-focused SUV?" Porsche has a new model you'll be interested in.
The German automaker has rolled out the specs and features list for its forthcoming 2020 Porsche Macan GTS, a model that sits above the the Macan base model and Macan S but below the Macan Turbo in Porsche's lineup.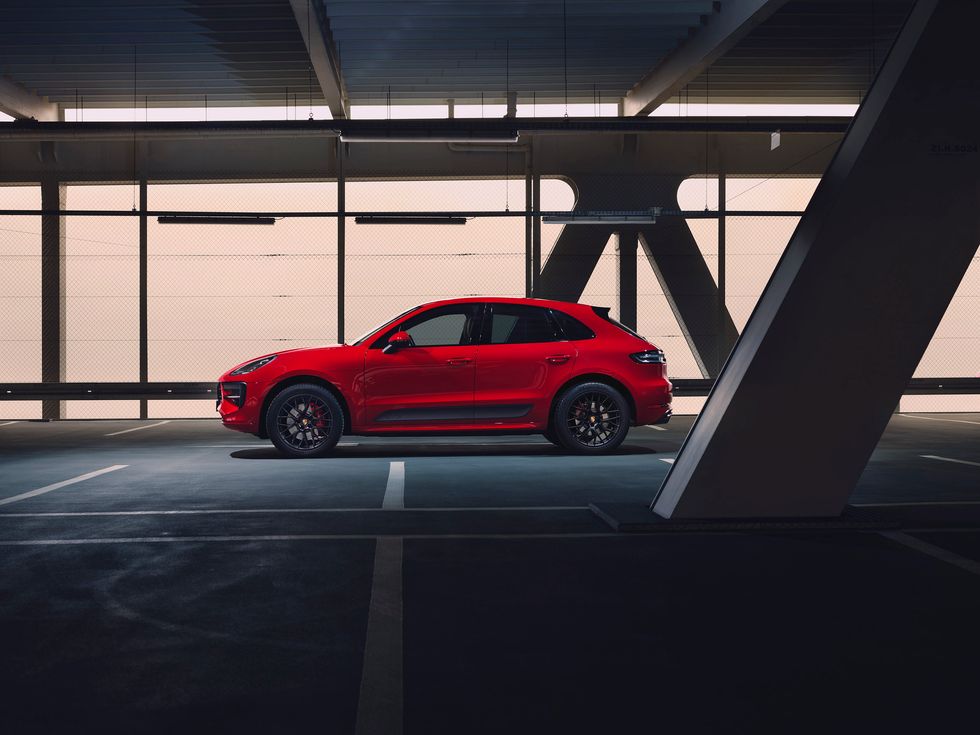 The model rides on standard 20-inch wheels.Photo courtesy of Porsche Cars North America, Inc.
Priced from $71,300, it is priced perfectly within that grade walk. The Macan S starts at $59,400 and the Macan Turbo is $86,300.
Its specs and features list also puts the SUV snugly between the two. The Macan S is powered by a turbocharged 3.0-liter V6, achieves 348 horsepower, and can get from zero to 60 mph in 5.1 seconds. The top-tier Macan Turbo has a twin-turbo 2.-9-liter V6 under its hood that gets 434 horsepower and can get to 60 mph from a standstill in 4.5 seconds with the Sport Chrono package. Porsche has given the Macan GTS the same engine as the Macan Turbo, but de-tuned it to get just 345 horsepower. It can still haul, getting off the line and to 60 mph in 4.7 seconds.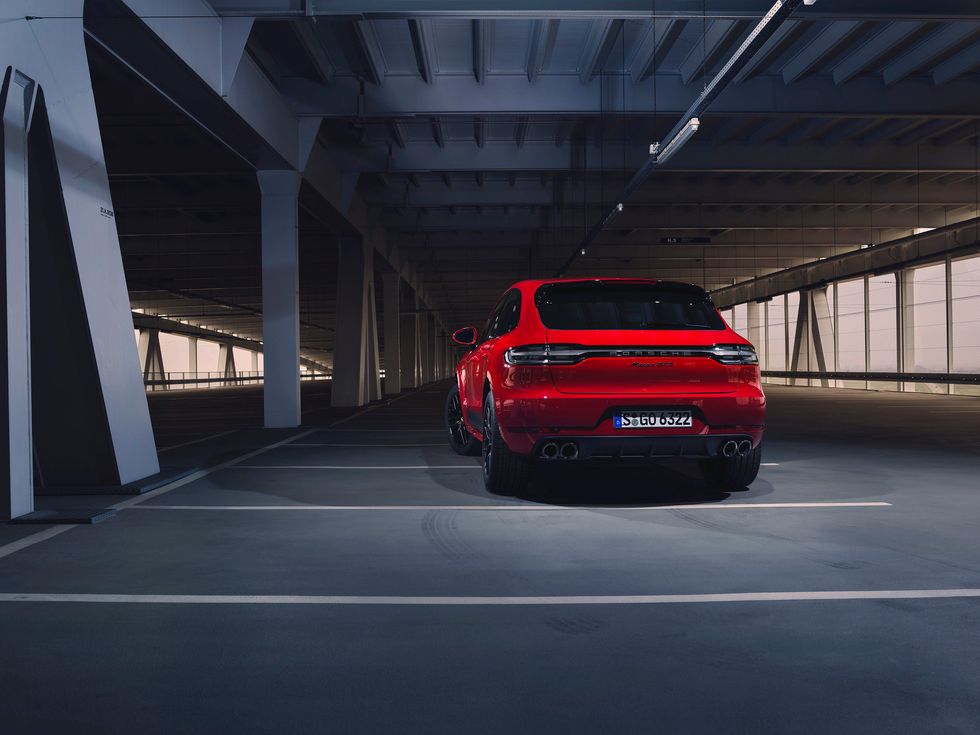 At its back, the Macan GTS features similar features as the other Macan models, with black accents.Photo courtesy of Porsche Cars North America, Inc.
GTS stands for Gran Turismo Sport and Porsche is offering this model with the equipment to give it sporty driving dynamics but deliver a comfortable ride for the SUV's occupants. The model comes standard with an adaptive air suspension, 20-inch RS Spyder Design wheels, and cast iron brakes. Buyers can choose to upgrade to a Porsche Surface Coated Brake with tungsten carbide coating or the Porsche Ceramic Composite Brake.

The SUV also comes with a standard sport exhaust system that allows its twin-turbo growl to shine.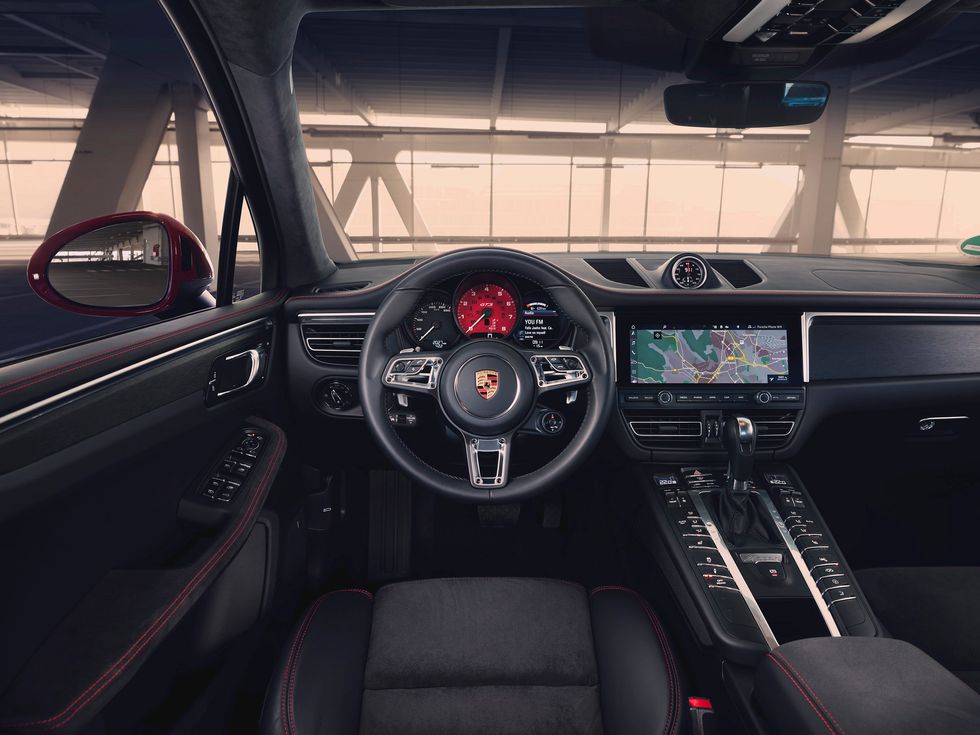 The interior design is similar to the other Macan models.Photo courtesy of Porsche Cars North America, Inc.
Its exterior is uniquely defined with new front and rear trim and striking side skirts. The front fascia has black accents and LED headlights with the Porsche Dynamic Light System. At the back are three-dimensional lights with an LED light bar and a black diffuser. Buyers can option the headlights in black with PDLS Plus.
The SUV's interior is mostly a carryover from the Macan S. It features high-quality materials like Alcantara leather and brushed aluminum. It has sport seats that are unique to the GTS trim level and feature eight-way adjustment as well as pronounced side bolsters. Options packages add red or white stitching and additional leather surfaces, a Bose surround sound system, and wireless device charging.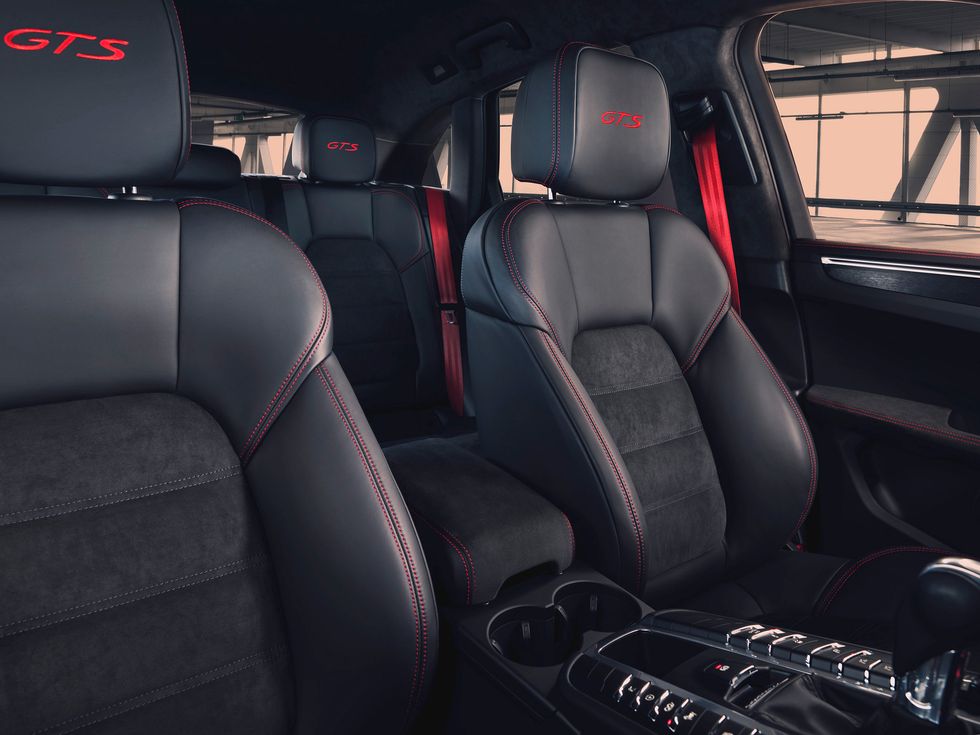 Alcantara leather feutres on the car's interior.Photo courtesy of Porsche Cars North America, Inc.
Park Assist including Surround View, a heated windshield, and an ionizer are also available.

The 2020 Porsche Macan GTS is expected to arrive at U.S. dealerships this summer and feature an added $1,350 delivery charge.