First Drive Review: 2020 Nissan Titan is everything it needs to be, but is that enough?
Nov 15, 2019, 7:01 am
Photo courtesy of Nissan North America
Forget the challenge of having the fastest lap around the Nürburgring. There may be no greater feat in the automotive industry at the moment than gaining full-size truck market share from the Big Three. That's exactly what Nissan is aiming to do with its refreshed 2020 Titan.

To get to the 2020 Nissan Titan, the automaker listened to its customers, who were vocal about a number of issues they had with everything from the truck's infotainment system to the dealership experience.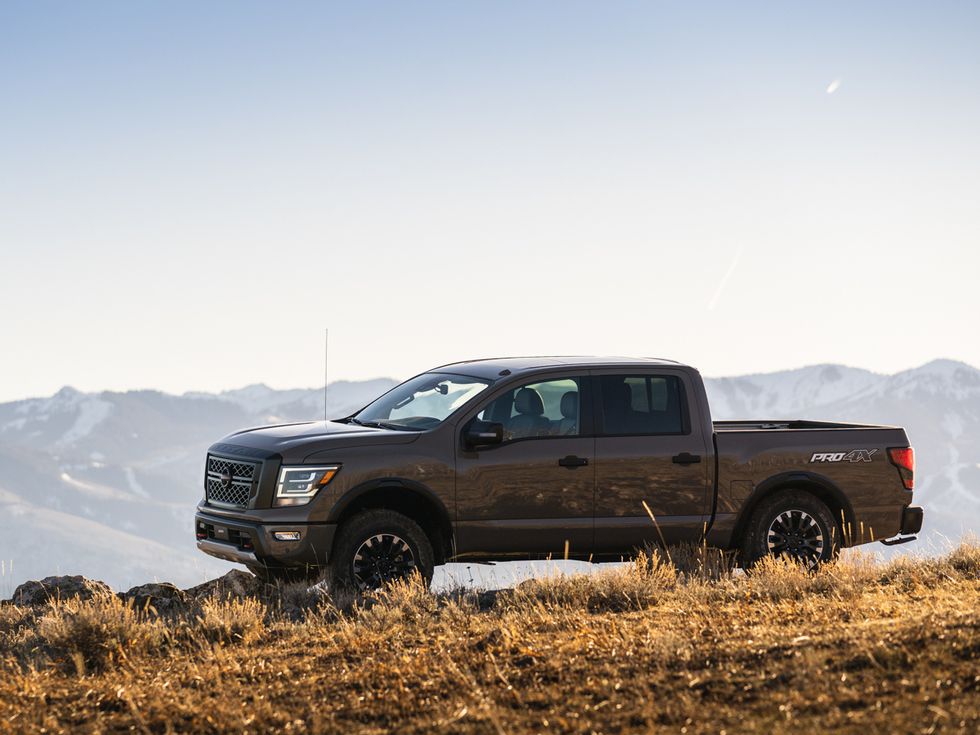 Nissan has given the PRO-4X trim a distinct new exterior design.Photo courtesy of Nissan North America
On the outside of the truck there are more differences between trim levels than before. The PRO-4X grade is the most aesthetically robust with a big, black grille that features a blacked-out Nissan logo for the first time alongside 18-inch wheels; lava red badging, stitching, and tow hooks; and a skid plate. Other trim levels got flashy chrome trim and new chrome grilles.
There are numerous other highlights of the refresh. The Titan's new headlight design doubles the light output on low beams and reduces the glare for oncoming traffic. There are new LED fog lights that add an additional 15 degrees of visibility. Nissan has also given the Titan an available panoramic moonroof that is the largest in the segment. The company also employed new acoustic laminated glass to keep road and engine noise at bay.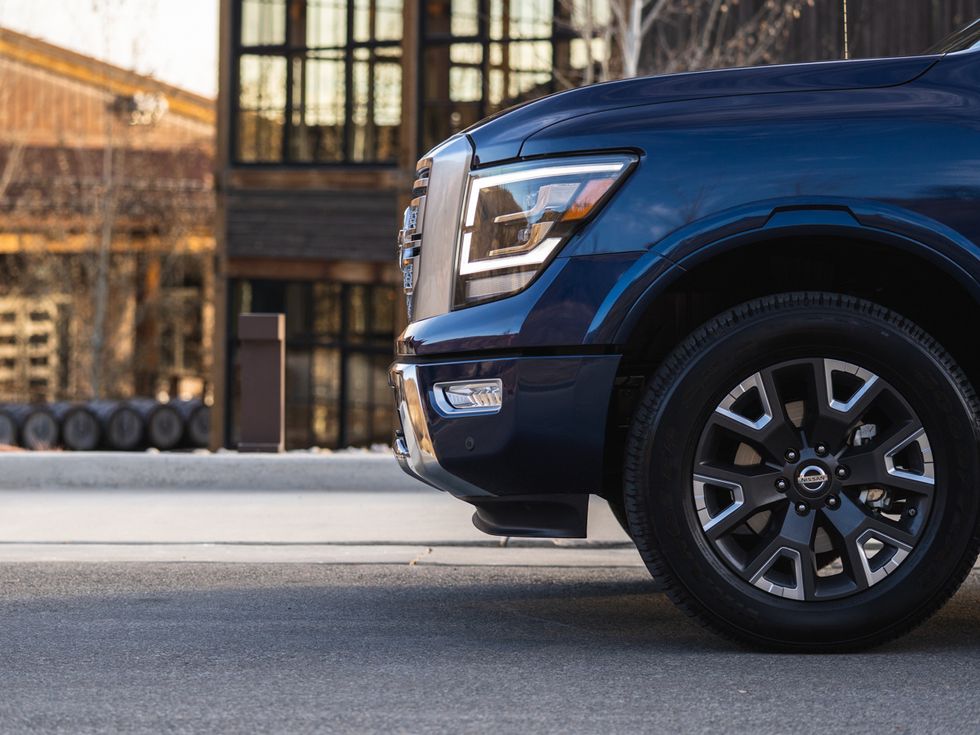 Nissan showed off their new LED headlight design as part of the first drive event.Photo courtesy of Nissan North America
Each trim level of the Titan is powered by a 400-horsepower 5.6-liter V8 engine that has 413 pound-feet of torque. That's a significant upgrade from the 2019 model and makes the engine the most powerful base offering of all full-size pickups. In testing on the roads and trails of Utah, Titan's nine-speed automatic transmission was sufficiently smooth shifting and its improved ratios worked in the Titan's favor. With 4,500 pounds of weight towed behind the truck and when traveling up steep off road climbs, the 2020 Titan did not show any strain while being tested.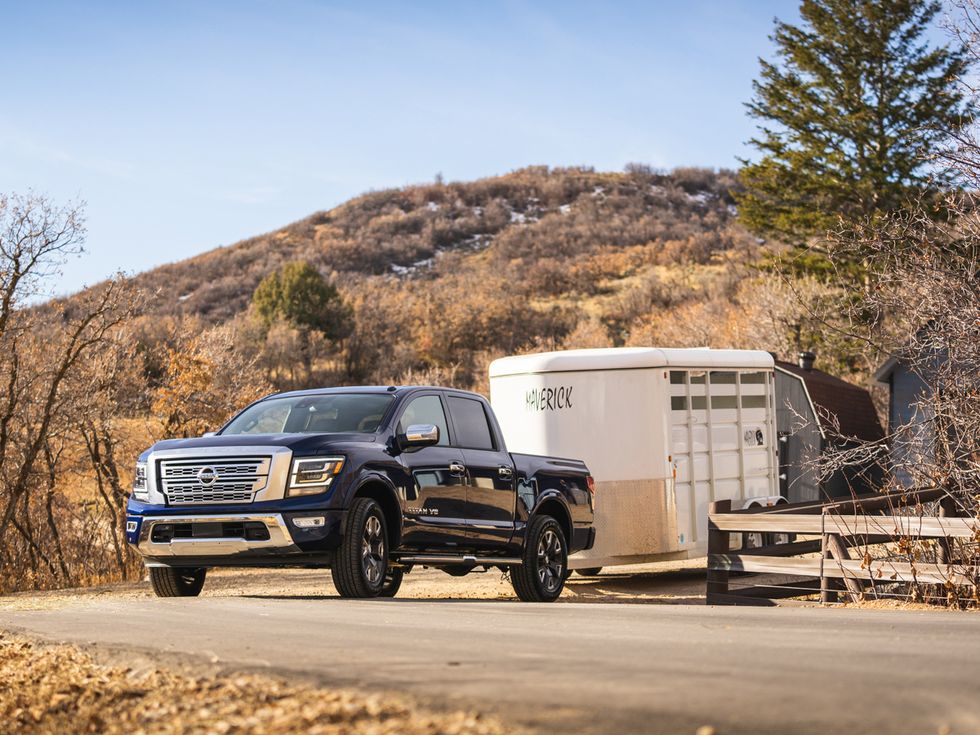 With its powertrain enhancements, the Nissan Titan didn't flinch when towing 4,500 pounds.Photo courtesy of Nissan North America
Inside, the Titan is improved where it matters. A new 9-inch touch screen is available and features the latest version of Nissan Connect and hardware. Apple CarPlay and Android Auto are standard. The system looks good, especially in its handsome housing, and works as advertised with much more responsiveness and quicker command activation than what you'll find in any other Nissan infotainment system to date.
Nissan has included numerous safety and driver assistance technologies in the Titan as part of the automaker's commitment to what they call "intelligent mobility." Automatic emergency braking with pedestrian detection, rear automatic braking, high beam assist, lane departure warning, blind spot warning, rear cross traffic alert, and eight airbags are standard equipment on every 2020 Titan.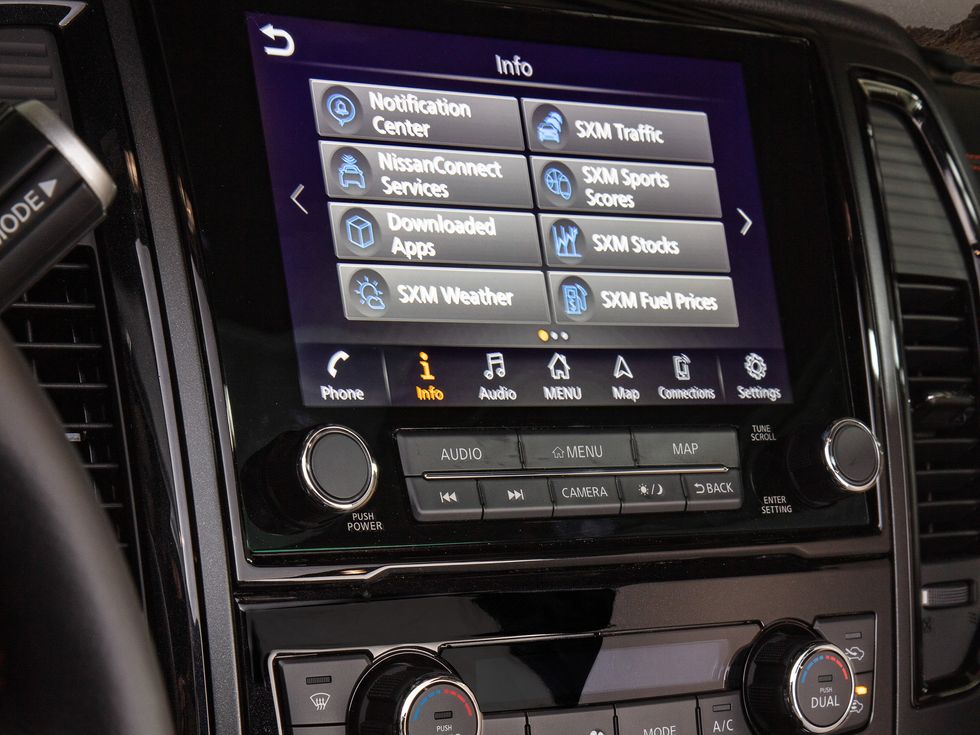 The truck now comes with an available 9-inch infotainment screen.Photo courtesy of Nissan North America
With the revisions, the Titan is a complete package that doesn't feel left behind. It's not as nice on the inside as the Ram 1500, nor is it as easy to drive. It's also not as capable as the Ford F-150. However, the Titan is nicer all-around than the Chevrolet Silverado and GMC Sierra, mainly because of its interior.
Pricing and fuel economy numbers will be released closer to the model's on-sale date in early 2020. Those factors will be the tipping factor as to whether or not Nissan truly boast about its improvements and value. Either way, the Titan is worth cross-shopping, especially if you're getting into a full-size truck for the first time.