Significantly refreshed 2020 Nissan Titan debuts at State Fair of Texas
Oct 8, 2019, 9:15 am
Nissan has listened to its customers and is giving them what they asked for in the 2020 Nissan Titan. The truck, which debuted last week at the State Fair of Texas has redesigned front and rear fascias, a boatload of new tech, and bigger differentiation between trim levels.
At the front, the truck has three new grilles, featuring varying degrees of a fresh face and color scheme. All of them have a design that incorporates the Titan "T" logo into it while the Nissan name badge and surrounding take a less prominent space in the face. This is the first time a black Nissan logo has appeared on the front of a vehicle straight from of the manufacturer.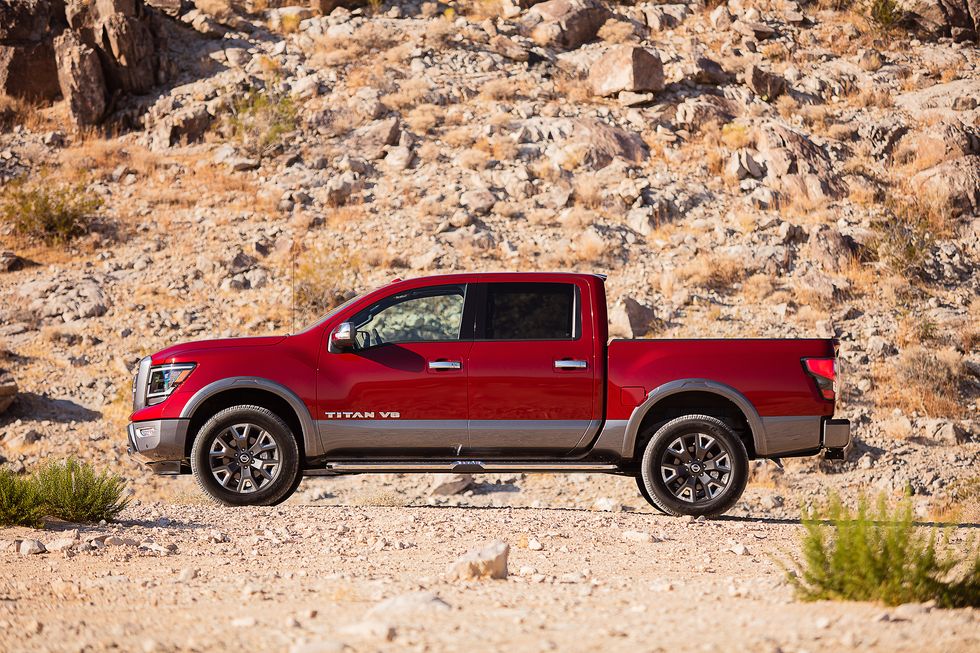 The side profile of the 2020 Nissan Titan looks much the same as the 2019 model. Photo courtesy of Nissan North America
Freshly added signature boomerang headlamps help the Titan achieve a sleeker look in much the same way the Ram 1500's headlights do. The new lights project around 120 percent more low beam light than in the outgoing model and the newly available fog lights add an additional 15-degrees of visibility to the side of the truck.
Other new exterior elements include the front bumper, in-bed LED lighting, and wheel designs. The truck also will come in three new colors: Red Alert, Baja Storm, and Cardinal Red Metallic.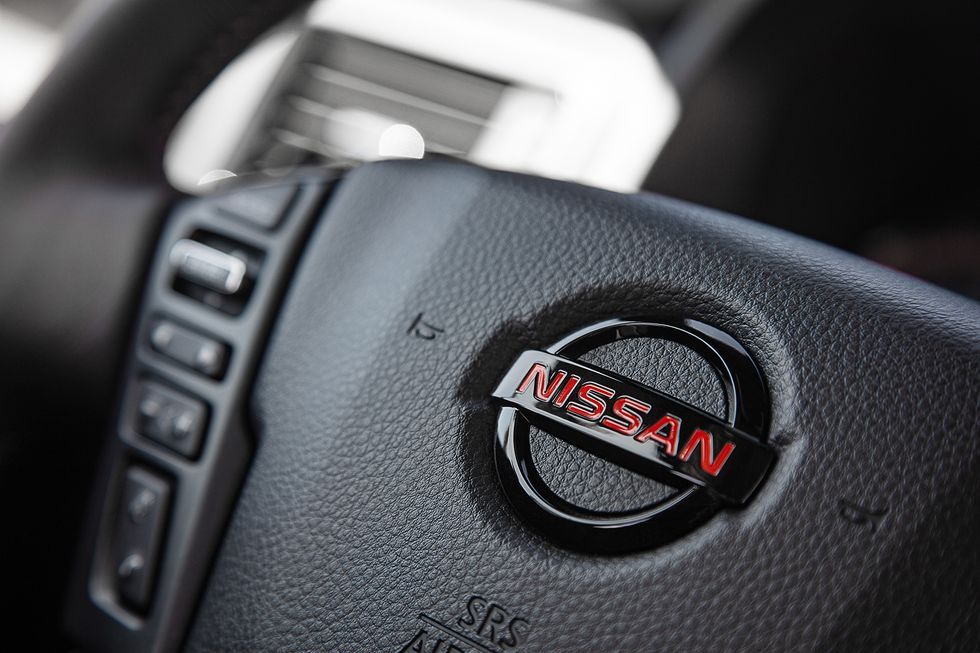 Nissan's old steering wheel has gotten a refresh with Titan PRO-4X badging front and center.Photo courtesy of Nissan North America
The Titan is still powered by Nissan's 5.6-liter V8 engine, which achieves 400 horsepower and 413 pound-feet of torque. It's the most powerful standard engine in the full-size truck class. The engine is now paired with a nine-speed automatic transmission, which has been calibrated to move the truck from 50 to 70 mph nearly one second faster than the 2019 version.
While the unbecoming steering wheel controls remain, the truck has replaced the Titan's outdated infotainment set up and given the truck an available 9-inch infotainment touch screen display with gloss black surround, which upgrades the look significantly. Apple CarPlay and Android Auto are standard. Up to six devices can be connected to the available Wi-Fi router.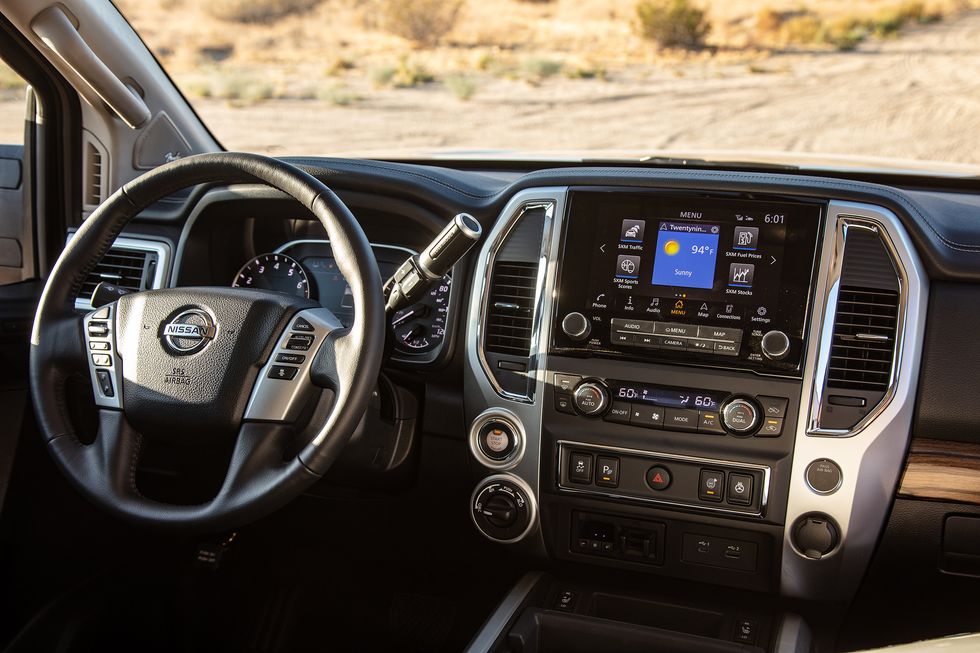 A 9-inch infotainment touch screen display is available.Photo courtesy of Nissan North America
There's also new accelerometer technology, which replaces the truck's gyroscope for what the company says are more accurate degree of pitch and roll angles, and a panoramic dual-pane sunroof, which significantly brightens up the cabin.
Every 2020 Nissan Titan comes standard with Safety Shield 360, a suite of driver assist technologies that includes automatic emergency braking with pedestrian detection, blind spot warning, rear cross traffic alert, lane departure warning, high beam assist, and rear automatic braking. A number of additional safety technologies are available.
The 2020 Nissan Titan will arrive at dealerships later this year. Pricing has yet to be announced.