New Lamborghini Huracán EVO RWD wasn't made to be the fastest, but should be the most fun
Jan 9, 2020, 10:30 am
Photo courtesy of Automobil Lamborghini
Sure, you can drive a car. But can you drive a car. If you prefer the raw feeling or horsepower, dynamic and engaging performance, and adrenaline producing speed (and have over $100k sitting around looking to be spent) Lamborghini has a new car for you.
The Lamborghini Huracán EVO Rear-Wheel Drive (RWD) is designed to be a totally visceral experience from the moment you look at it to when you peel away to when you sit on the brake at a stop feeling your heart beat with joy.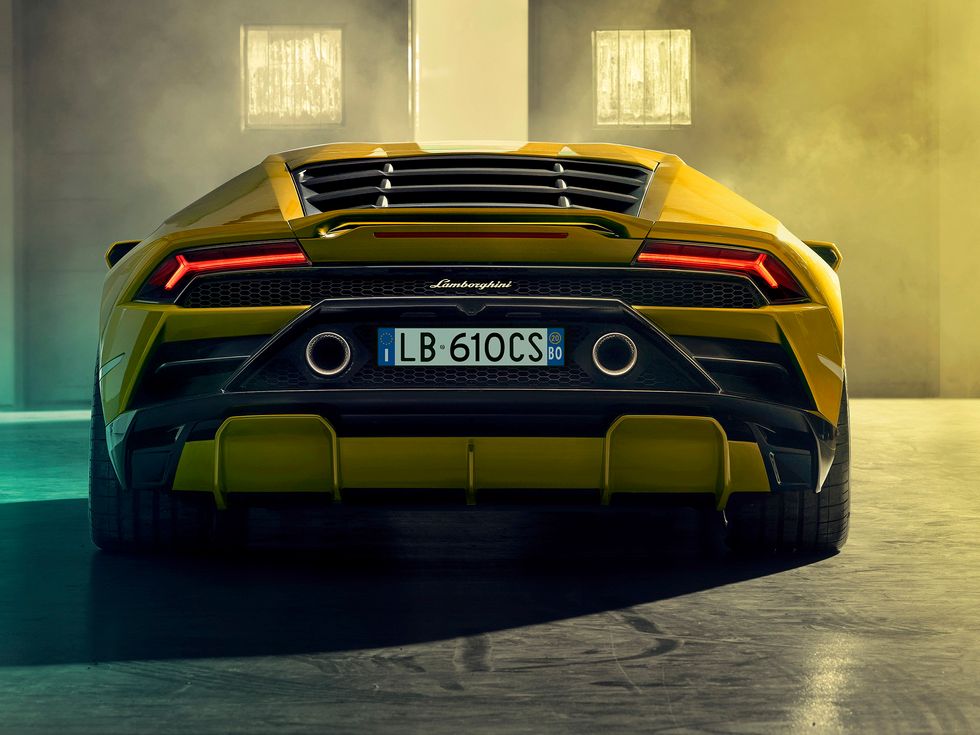 The car is rear-wheel drive and meant for driving purists.Photo courtesy of Automobil Lamborghini
The car's V10 engine is paired with a seven-speed dual-clutch gearbox and delivers 610 horsepower and 560 Nm of torque. It weighs just 3,062 pounds thanks in large part to a hybrid chassis made from aluminum and carbon fiber, and a skin made from aluminum and composite material. The car has a top speed of 202 mph and can get from zero to 100 km/h in 3.3. seconds.

Despite all those numbers, Lamborghini says that the car isn't designed to excel at straight-linespeeds or set lap records. It's designed to be an instinctive driver's car. That's not to say that it isn't fast. It's just designed to be more fun to drive than a straight speedster.
"The Huracán EVO RWD puts the car in the driver's hands: the driving experience is delivered by the hardware," said Stefano Domenicali, Chairman and Chief Executive Officer, Automobili Lamborghini. "This car reminds the driver of Lamborghini's pure engineering origins: the driver is at the center of the Huracán EVO RWD's performance, with unfiltered feedback and an emotive and more engaging driving experience controlled by the pilot. The Huracán EVO RWD performance relies on the harmony between man and machine: driving skills and the Huracán EVO's RWD mechanics deliver perfectly balanced dynamics, physical feedback and a pure performance. The Huracán EVO RWD enhances the V10 Huracán line-up with a model appealing to brand newcomers as well as those seeking sublime driving fun."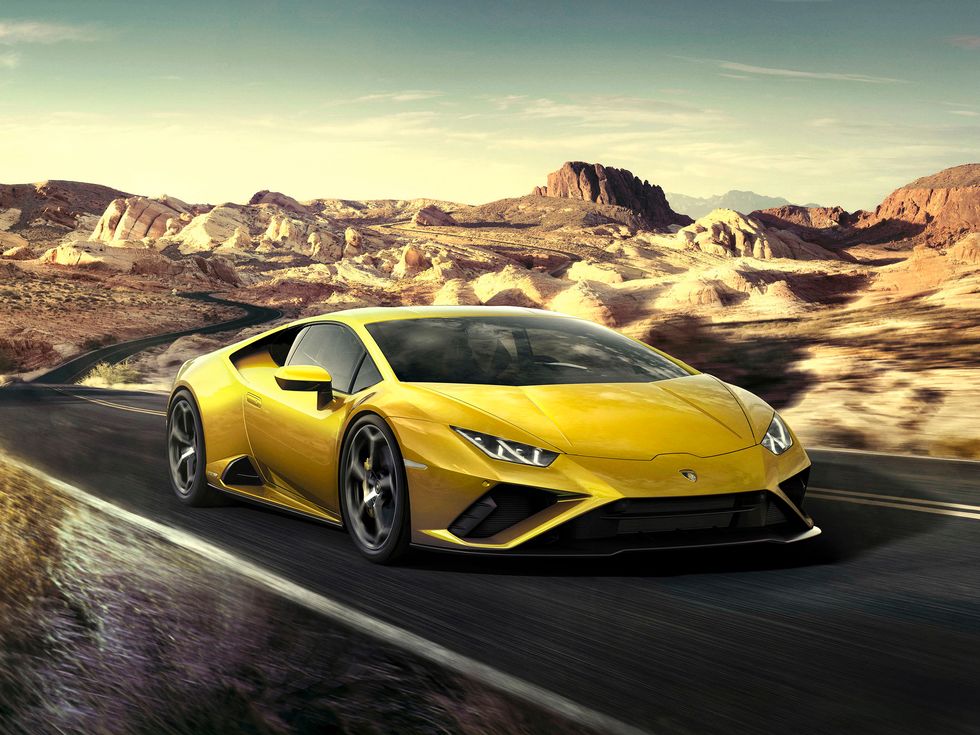 Lamborghini has crafted a new yellow paint job just for the model.Photo courtesy of Automobil Lamborghini
Lamborghini has give the car a 40/60 front/rear weight distribution and features launch control. It rides on standard 19-inch wheels with specially designed Pirelli P Zero shoes and ventilated and cross-drilled steel brakes. Twenty-inch wheels and carbon-ceramic brakes are available.
The tuned vehicle comes with Performance Traction Control System (P-TCS) that is calibrated specifically for the rear-wheel drive Huracán EVO, that eschews the normal torque cut of a vehicle and instead delivers torque in advance resulting in appropriate traction when exiting a corner, maintaining its stability. The calibration of the P-TCS is determined by which drive mode is selected.

Inside, the car features a 8.4-inch touch screen in the center of the vehicle. It features the ability to make calls, provide internet access, and is Apple CarPlay compatible.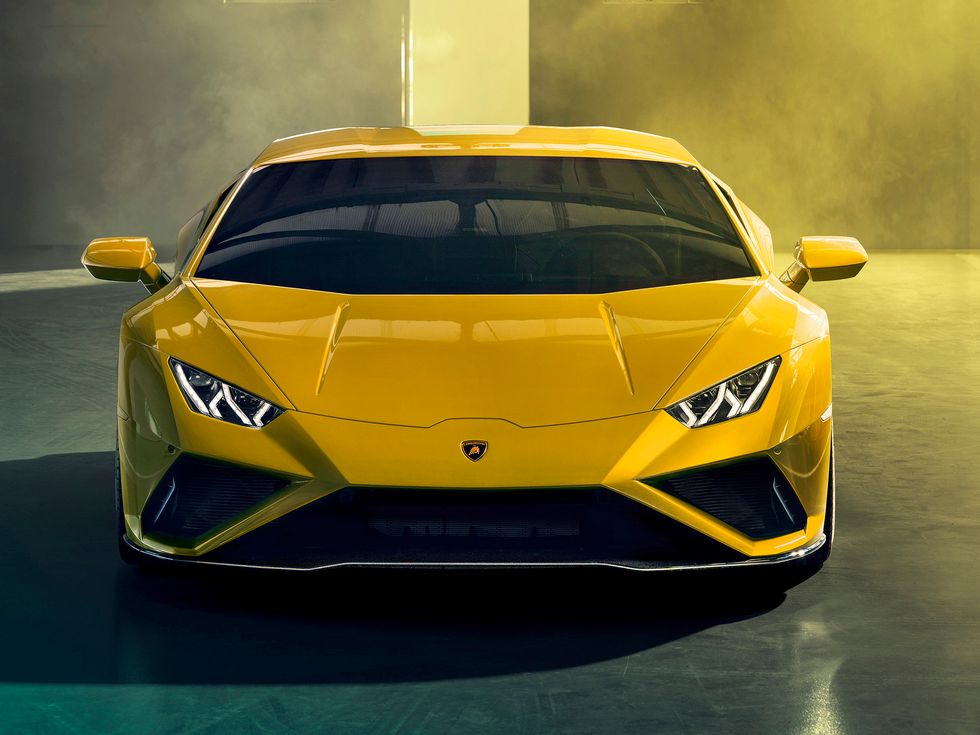 The car features recognizable Huracán styling characteristics that Lamborghini fans will appreciate.Photo courtesy of Automobil Lamborghini
Lamborghini's Ad Personam program allows customers the ability to fully customize the color and trim presentation of their vehicle. A new available yellow paint job, Giallo Belenus, has been specially designed for the Huracán EVO RWD. It is available with a matching leather and Alcantara interior trim.

The Lamborghini Huracán EVO RWD will begin delivers in spring 2020. It has a starting price of $208,571 in the U.S.