First Drive Review: 2020 Jeep Wrangler's new EcoDiesel powertrain is strong and smooth
Nov 12, 2019, 12:02 am
Photo courtesy of Fiat Chrysler Automobiles N.V.
The Jeep Wrangler was all-new for the 2018 model year. It showed off a fresh look, updated interior, and improved capability and gave buyer's the choice of several gasoline engines. What it didn't offer was a diesel engine option. That changes for the 2020 model year.

The addition of a diesel engine is a big deal for those who do lots of towing and off-roading. While the Wrangler in its four-door guise can tow up to 3,500 pounds with any of its current engine options, there are several good reasons to go with a diesel if towing is a priority.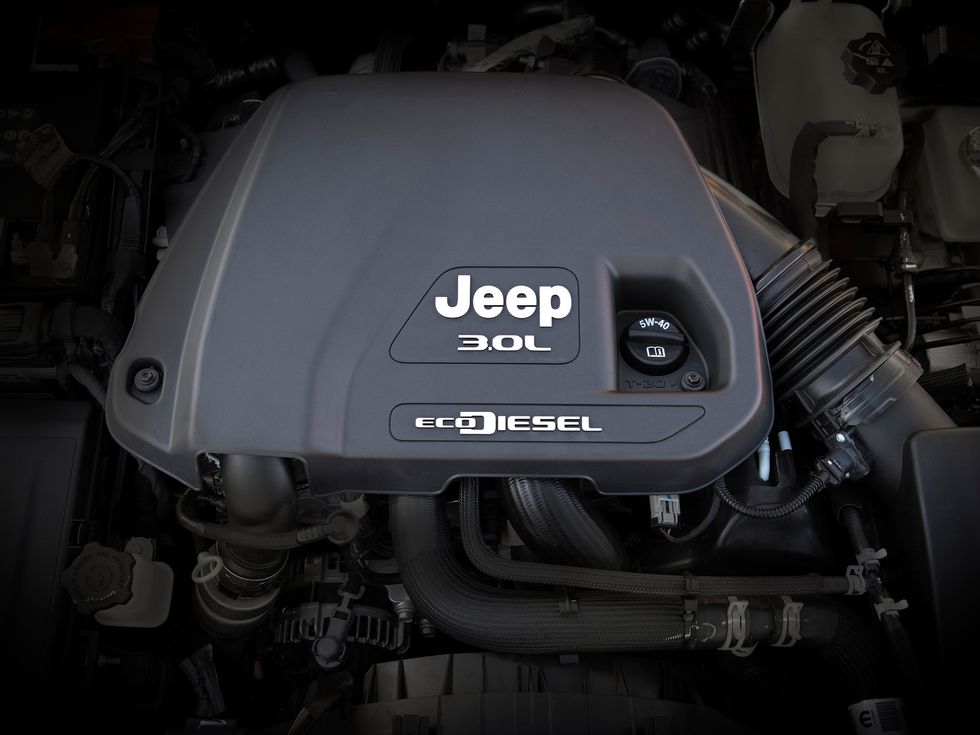 The new engine produces produces 260 horsepower.Photo courtesy of Fiat Chrysler Automobiles N.V.
It all comes down to torque. The turbocharged 3.0-liter V6 EcoDiesel now offered in the Wrangler produces 260 horsepower with 442 pound-feet of torque at 1,400 rpm. That's significantly more torque than the 260 pound-feet at 4,800 rpm of the 3.6-liter V6 or 295 pound-feet at 3,000 rpm offered with the 2.0-liter four-cylinder, which are the two gas engines available for the Wrangler.
That extra low-end torque makes a big difference when there's 3,500 pounds of cargo trailing behind the Wrangler. It improves the Wrangler's ability to quickly accelerate up to highway speeds so merging into heavy traffic is less stressful. It also makes towing that load up a steep grade easier and helps the Wrangler maintain its speed.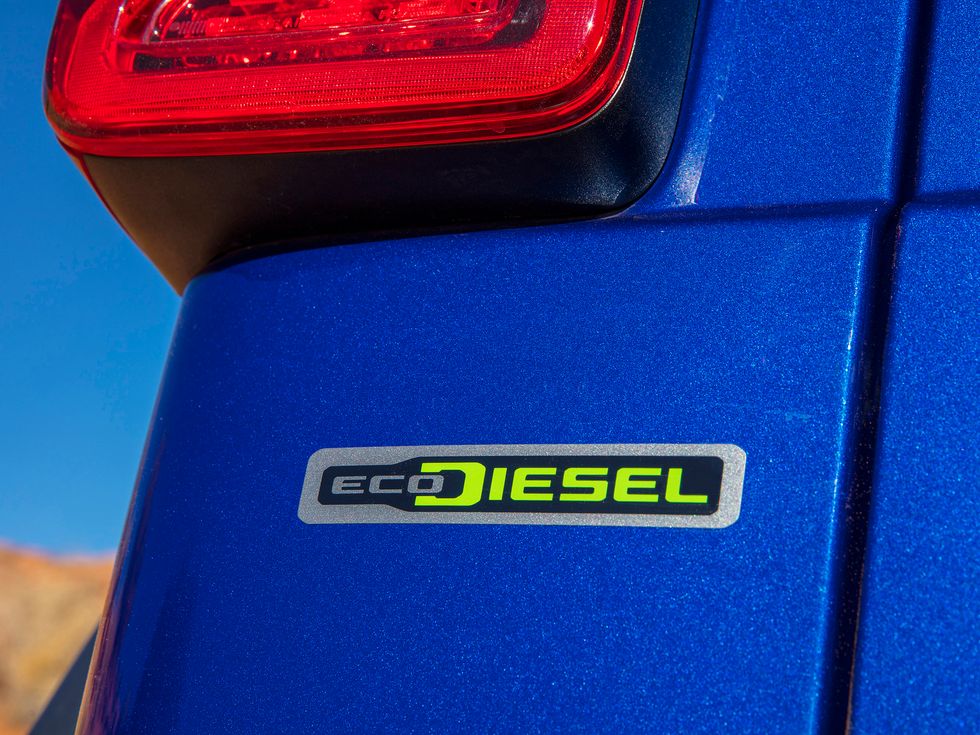 Each Wrangler EcoDiesel model gets badging labeling it as such.Photo courtesy of Fiat Chrysler Automobiles N.V.
Off-road, that same torque helps provide a smoother and more controlled driving experience. Instead of needing a heavy foot on the accelerator to edge the Wrangler across challenging terrain, the extra torque of the diesel engine does the job with minimal acceleration.
That extra torque required several modifications including a recalibrated 8-speed automatic transmission. There are also third-generation Dana 44 heavy-duty solid front and rear axles, which are only found on the Rubicon trim in models with gasoline engines.
Lastly, there are extra skid plates to protect the urea tank and fuel water separator. Aside from those changes, the Wrangler EcoDiesel is much the same as a Wrangler equipped with a gasoline engine.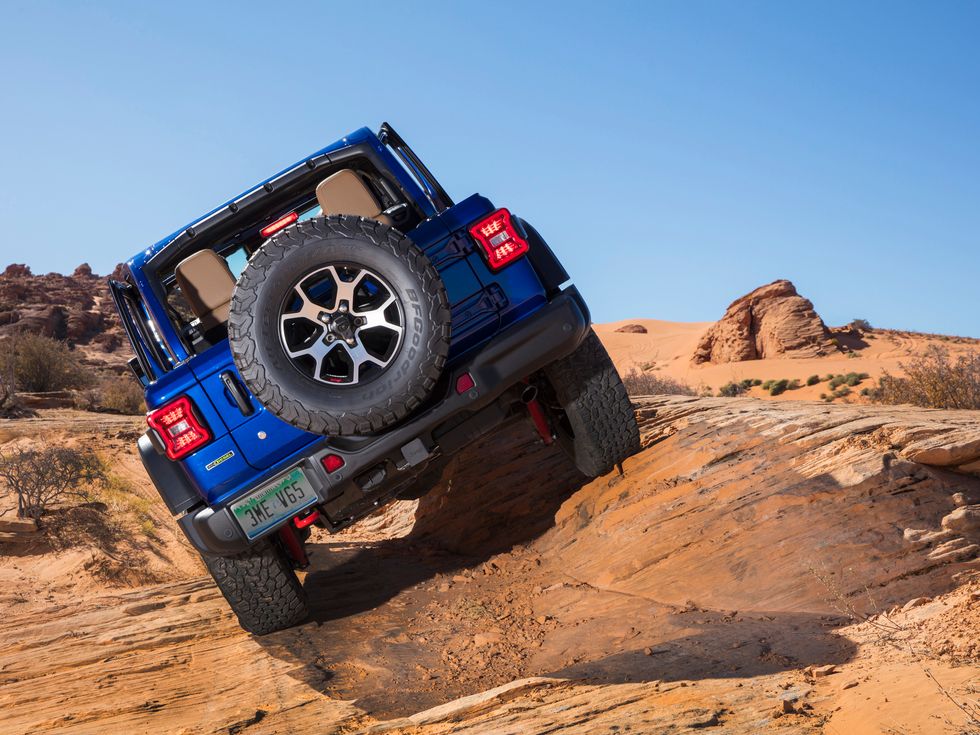 The model retains its off road prowess.Photo courtesy of Fiat Chrysler Automobiles N.V.
This includes impressive capability. There's up to 30 inches of water fording and a minimum of 9.7 inches of ground clearance with fuel tank and transfer case skid plates to protect the Wrangler when traversing uneven terrain.
Inside there's room for five passengers with a durable and comfortable interior. While the Wrangler is a fun way to tackle the morning commute or cart the kids to school, Jeep knows weekends might not be so tame.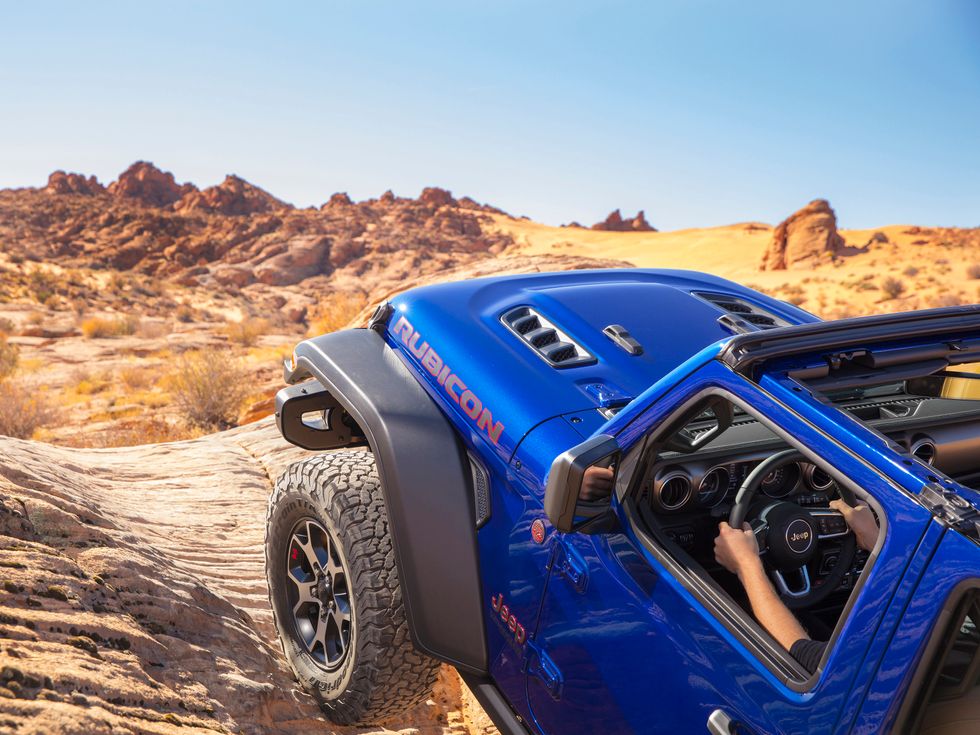 The Wrangler is still as capable as ever, including being able to ford 30 inches of water.Photo courtesy of Fiat Chrysler Automobiles N.V.
After all, this is an SUV with removable doors, a removable roof, and even a windshield that drops down flat against the hood. There's a good chance the interior of a Wrangler will spend some time covered in mud and water. That's perfectly fine. Jeep designed it to handle all that muck.

The Jeep Wrangler with the EcoDiesel engine adds an extra element of off-road capability and makes towing easier than ever. It's available for a $4,000 premium across the 4-door Wrangler range and set to arrive in dealerships later this year.