First Drive Review: Next-Gen 2020 Hyundai Sonata sings a high-tech song
Oct 15, 2019, 9:48 am
Photo courtesy of Hyundai Motor America
Hyundai's most family-friendly sedan is singing an updated song; its lyrics encompass a more sensuous design, with new body architecture, powertrain elements, safety and technology features.
The eighth-generation 2020 Hyundai Sonata (only seven have been sold in the U.S.) slots into the small-but-significant midsized segment and competes with the Toyota Camry, Honda Accord and Nissan Altima.
This Korean automaker remains bullish on sedans and the Sonata saying that they Hyundai expects an equilibrium in the marketplace, with a shift in trends in the coming years. Their research shows that 59 percent of sedan owners say they will stay in the segment.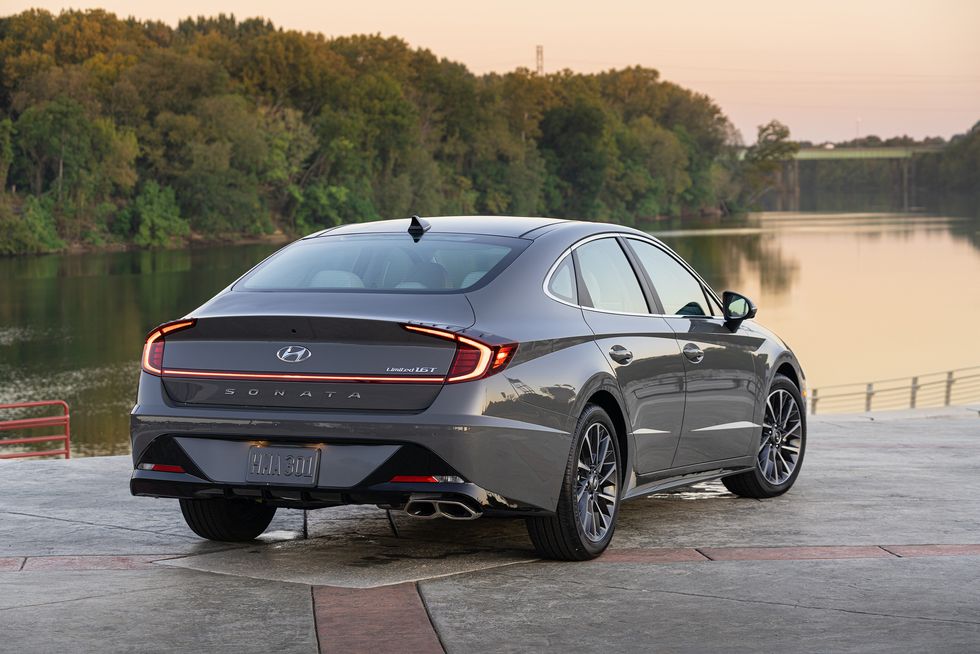 The rear of the Sonata is more familiar to brand enthusiasts than its new face.Photo courtesy of Hyundai Motor America
The 2020 Sonata was designed to appeal to a spectrum of younger, tech-savvy buyers, who appreciate the low cost of ownership and improved fuel economy the sedan offers. The model front-wheel drive-only sedan is available in four trims; SE, SEL, SEL Plus, and Limited.
Sonata benefits from Hyundai's new four-door coupe silhouette design, which gives the exterior a next-gen, fastback appearance with a longer wheelbase, shorter overhangs and rear spoiler. The company's digital pulse grille adorns the front, punctuated by state-of-the-art lighting; standard on the Limited is a ribboned-chrome line that brings a light path of eye candy that slingshots from the winged mirrors though the beltline and angles back to the front hood and headlamps. Wheels range from 16- to 18-inch alloys.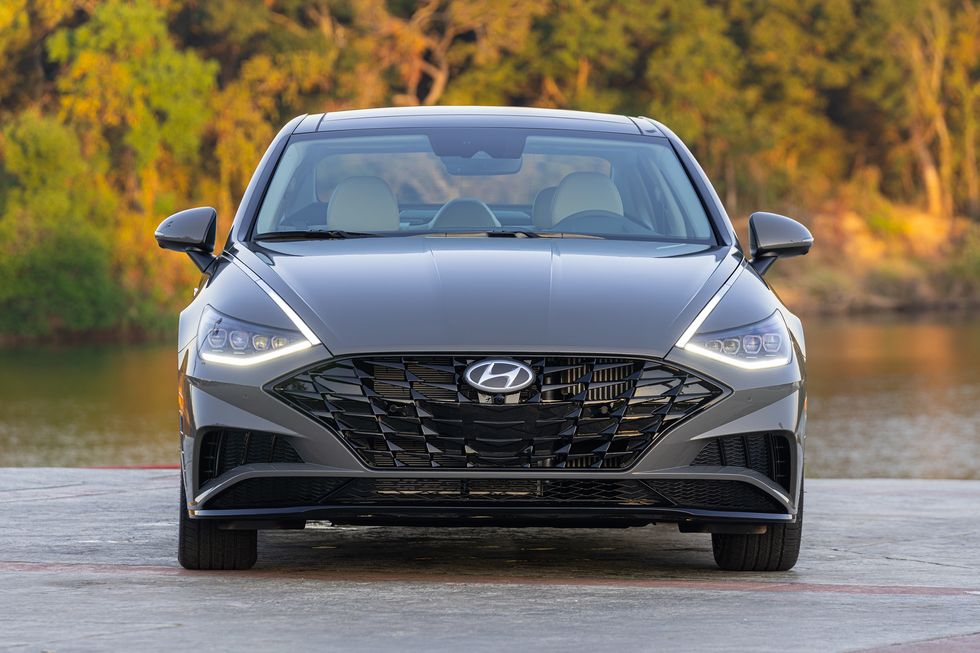 The Sonata's headlights features a new design that you won't see on any other cars sold in the U.S.Photo courtesy of Hyundai Motor America
Sonata is the first model to benefit from Hyundai's third-generation vehicle platform that is engineered with an improved front and rear suspension for more refined driving and an optimized undercarriage for safety and efficiency.
Two four-cylinder engines include a naturally aspirated, retooled 2.5-liter on base models that brings 191 horsepower and 181 pound-feet of torque and a new 1.6-liter turbo with 180 horsepower and 195 pound-foot of torque (reserved for SEL Plus and Limited trim levels). Both engines are paired with have an eight-speed automatic transmission and all models have four drive modes- Smart, Normal, Sport and Custom, for individual steering, throttle, and transmission mapping.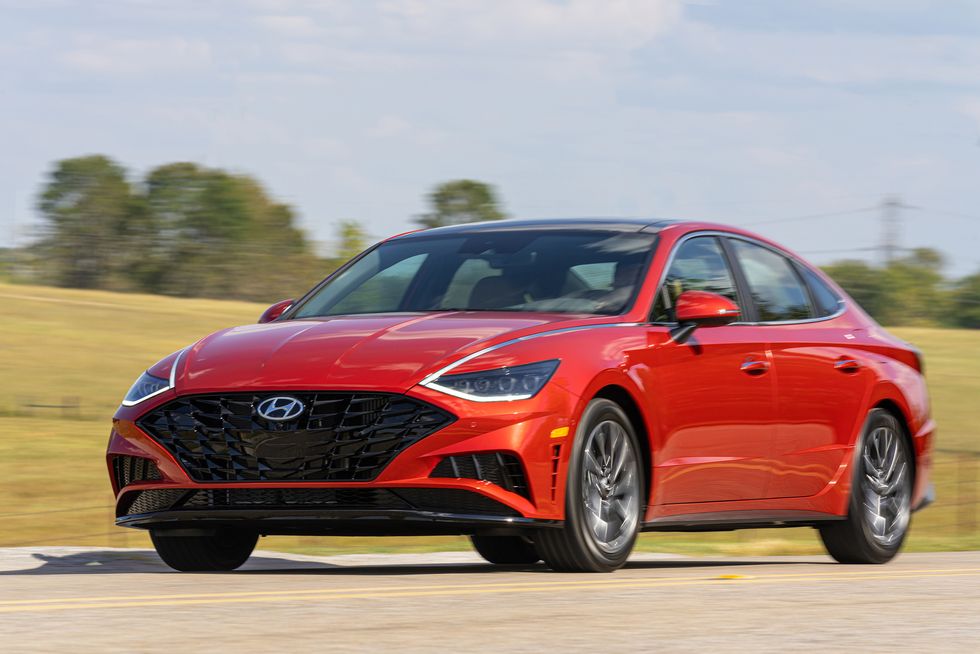 The Sonata delivers a smooth ride and it has balanced handling.Photo courtesy of Hyundai Motor America
Sonatas powered by the 1.6 go on sale soon now and will likely appeal to buyers looking for more vigorous turbo power; 2.5-liter models go on sale in December and will bring slightly better fuel economy. Available the spring, a hybrid version will attract city dwellers and others looking for more fuel-efficient driving.
Crafted with a "Beautifully Smart" theme, Sonata's interior has more premium materials and amenities than in its previous generation, such as available powered front leather seats, with heating and ventilation. A slimmed dashboard and recessed center stack keep driver attention on the 12.3-inch digital instrument cluster and the road ahead; a head up display adds safety and eyes-up ease.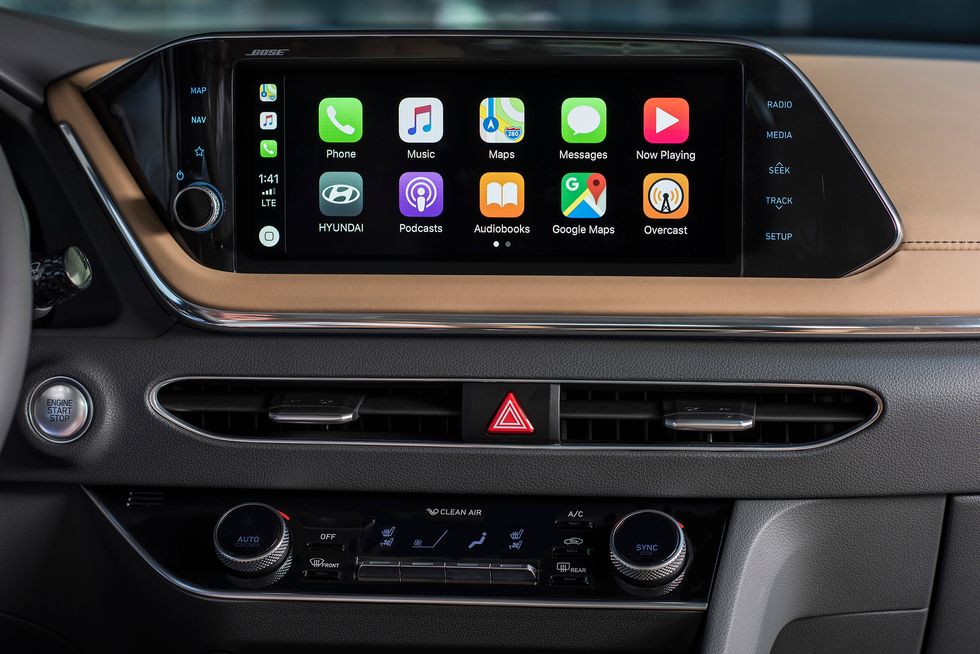 Apple CarPlay and Android Auto are standard on all but base models.Photo courtesy of Hyundai Motor America
A wide-aspect ratio, split-10.25-inch infotainment touch screen integrates audio, video and optional navigation functions. Wireless charging speed has been boosted by 30 percent in the new model. Apple CarPlay, Android Auto, and three years of Blue Link connectivity are standard on all but the Sonata base model. A 12-speaker Bose Premium sound system is available.
The Sonata is spacious, especially its third row, and the available panoramic sunroof emphasizes that fact. The roomy trunk swallows gear and goods with ease.
Hyundai's standard Advanced Driver Assistance System bundles forward collision-avoidance assist, lane keeping and lane follow assist, driver attention warning, automatic high beam assist, forward collision avoidance, advanced smart and cruise control.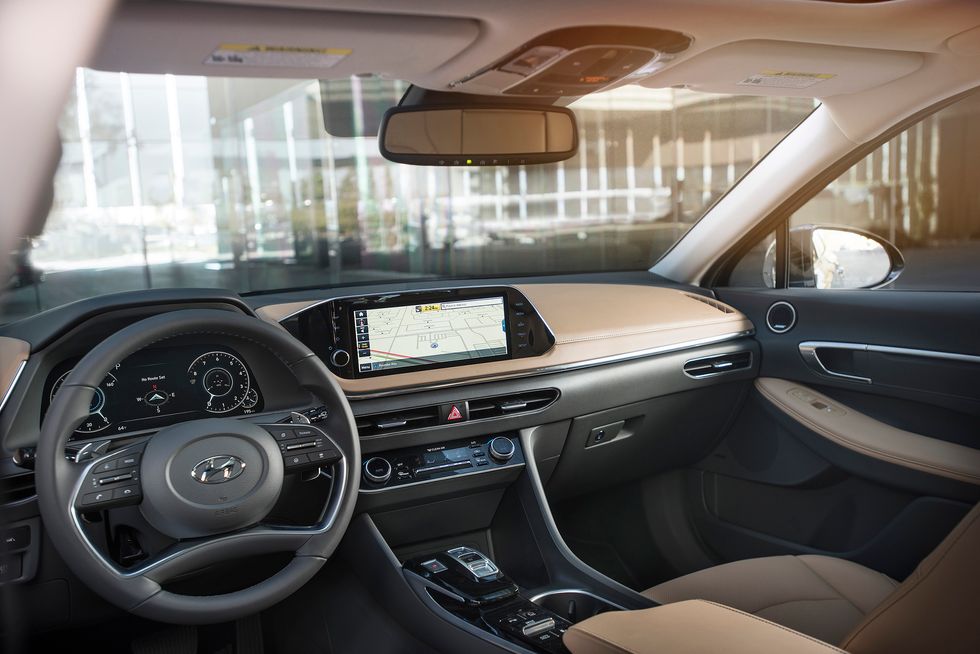 The Hyundai Sonata is filled with high-quality materials, especially in higher trim levels.Photo courtesy of Hyundai Motor America
A first-in-class remote parking assist feature maneuvers the Sonata into or out of parking spaces to load passengers or luggage. Accessed through the smart key, it allows the vehicle to move independently up to 30 feet.
On the surface, it is compelling. Sonata's standard equipment, quiet ride, good road manners, and innovative new features, along with competitive pricing, an industry-leading warranty, and high marks in J.D. Power's Initial Quality surveys give buyers a reason to take it for a test drive.