2020 Chevrolet Corvette is as quick as a Ferrari 488 GTB
Nov 8, 2019, 8:20 am
Photo courtesy of Chevrolet
A lot of people's ears perked up and jaws dropped (even just a little) when Chevrolet announced that its new mid-engine Corvette would start under $60,000. Now there's another reason to be impressed.
The 2020 Chevrolet Corvette Stingray, the base model, is as quick as a Ferrari 488 GTB when equipped with the Z51 package. That setup gets the car from zero to 60 mph in 2.9 seconds. Without the package, the base model gets to 60 mph in three seconds flat.
The base model is faster at the quarter mile though they're equally as quick (11.2 seconds). The Stingray gets to 123 mph while the Z51 package-equipped Corvette hits just 121 mph.
This is significantly faster than the previous generation Corvette. The 2019 Chevrolet Corvette Stingray base model gets from zero to 60 mph in 3.7 seconds.
"The performance of the 2020 Stingray has far exceeded our expectations," said Alex MacDonald, Chevrolet vehicle performance manager. "Moving more weight over the rear wheels helps us get off the line quicker, but it's the integration between the powertrain and chassis that really takes the performance to new levels."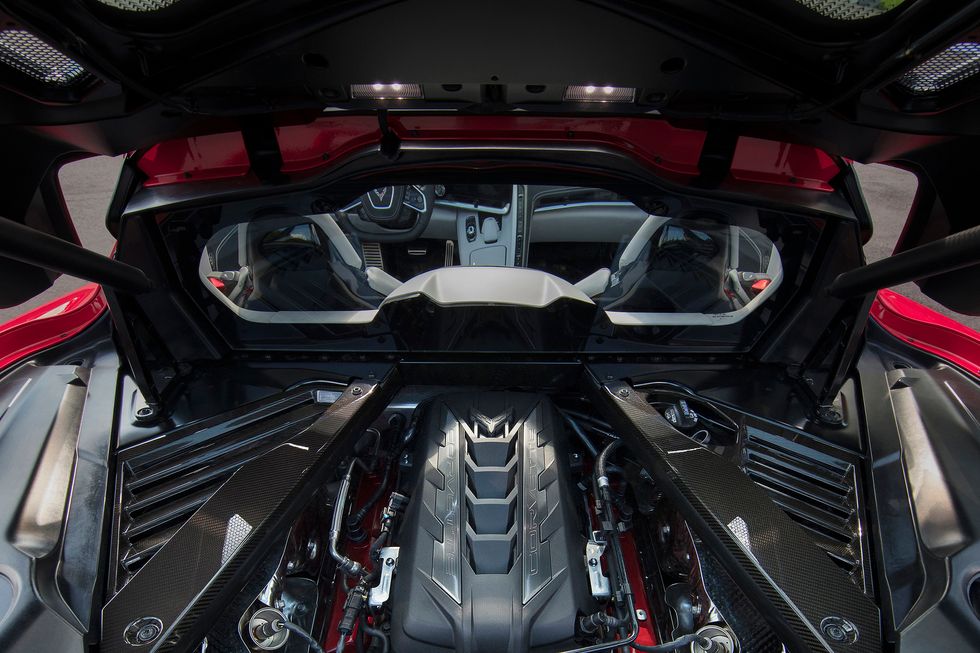 The Chevrolet Corvette Stingray is powered by a naturally-aspirated small-block V8.Photo courtesy of Chevrolet
The Corvette is powered by a naturally-aspirated small-block V8 that gets 495 horsepower and 470 pound-feet of torque when equipped with the performance exhaust. It is the most powerful entry level Corvette ever.

Its engine is paired with an eight-speed dual-clutch transmission.
The 2020 Corvette is equipped with paddle shifters, which operate three different ways:
Double paddle declutch – pull both paddles simultaneously to simulate pressing a clutch pedal.
Temporary manual – simply use either paddle while in Drive, and the vehicle will temporarily switch to manual mode.
Lowest available gear – hold the downshift paddle and the transmission will shift to the lowest available gear for a quick burst of torque.
The model comes with three drive modes:
Tour: Moves to the background to provide quiet, smooth shifts for optimal ride comfort.
Sport: Gives drivers altered up and downshifts for more spirited driving.
Track: Maximizes vehicle performance with aggressive gear selection expected to keep the engine in a peak performance window.
Dealerships are currently taking orders for the 2020 Corvette, which starts at $59,995 without any taxes and fees factored in.