First production 2020 Chevrolet Corvette Stingray sells for $3 million
Jan 18, 2020, 10:46 pm
Photo courtesy of Chevrolet
Rick Hendrick, founder and CEO of Hendrick Companies, placed the winning bid for the 2020 Chevrolet Corvette Stingray VIN 0001 at the Barrett-Jackson Scottsdale Auction tonight. All proceeds from the sale benefit the Detroit Children's Fund, a nonprofit focused on high-potential investments to provide Detroit school children the opportunity to receive an excellent education.
"I am the number one Corvette junkie in the world," said Hendrick. "Thanks to Chevrolet and Barrett-Jackson, because they always pick charities that are so good and help so many people."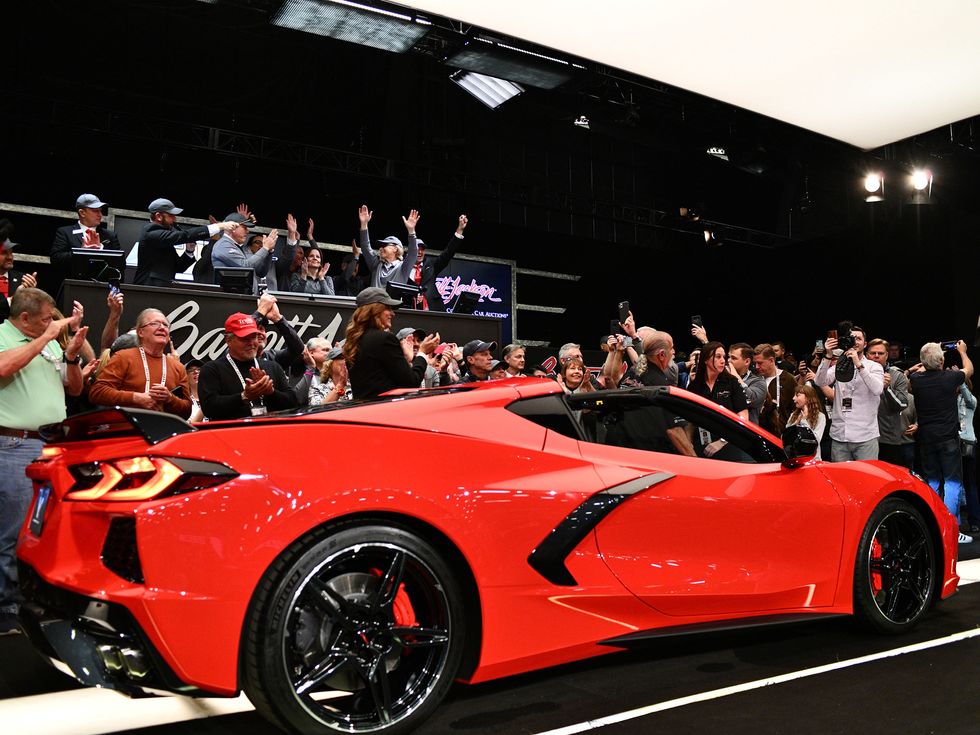 Rick Hendrick won the 2020 Corvette Stingray VIN 0001 at the annual Barrett-Jackson auction.Photo courtesy of Chevrolet
The model Hendrick won is the first retail production of the new, next-gen mid-engine Chevy Corvette. He will receive a black-on-black Corvette 3LT model that is fully loaded with all options boxes checked. It is scheduled to be built in the first quarter of 2020.
The car gets 495 horsepower and 470 pound-feet of torque from its 6.2-liter eight-cylinder engine. The engine is paired with an eight-speed automatic transmission. Its 3LT package includes black seats with red trim, red seat belts, GT2 seats, removable roof panel, rear spoiler, Performance Data Recorder and the Z51 performance package.
The winning bidder has the option to taking delivery of the car at the Corvette plant in Bowling Green, KY, with a hosted tour of the Corvette Museum. The new Corvette also will come with a letter of authenticity and some unique artwork.
"All children deserve great schools," said Jack Elsey, executive direction, Detroit Children's Fund. "The proceeds from this auction will help improve public education in Detroit and, as a result, give thousands of young Detroiters a brighter future. We cannot thank General Motors enough for their commitment to DCF and the children of Detroit."
Corvette coupe production will begin at GM's Bowling Green Assembly Plant in Kentucky in early February, with customer deliveries slated to begin before the end of February.