2020 BMW X4 M Competition Review: Feisty family-friendly fun
Nov 8, 2019, 6:24 am
Photo courtesy of BMW Of North America
This is the X4 that BMW has meant to build the whole time. The 2020 BMW X4 M Competition is breathy, robust family hauler that convinces you that it's not your typical SUV, but rather a showstopper of a performance high-riding hatchback.

Just as you'd think from its name, the BMW X4 is bigger than the BMW X3 but rather than just being bigger, it's an SUV from a different vein. BMW's odd-numbered SUVs are off-road worthy with trail prowess. The even-numbered models are more performance-focused with their own set of looks.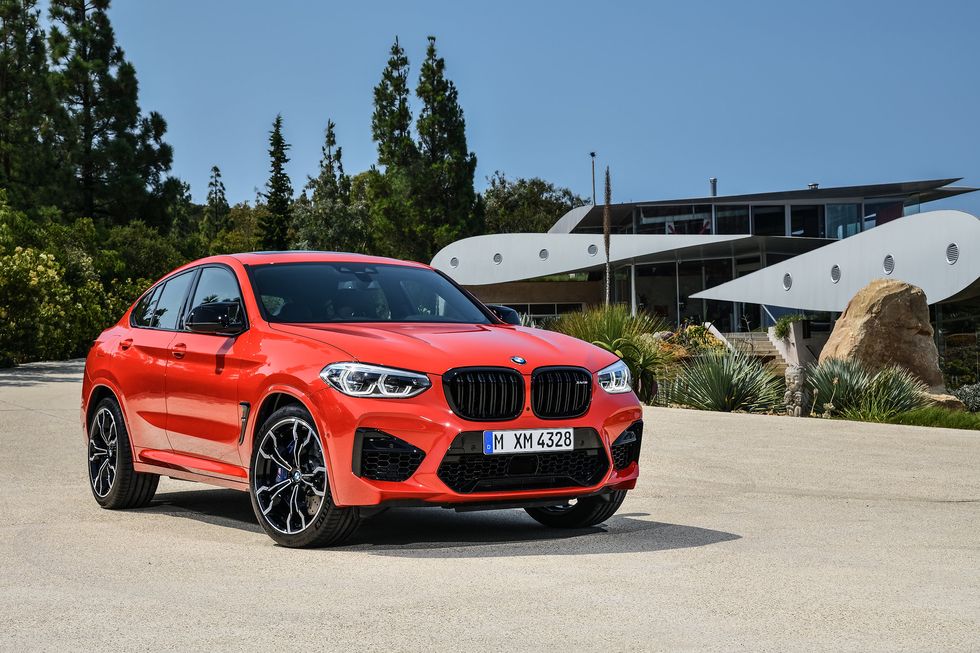 The SUV's stance looks beefy thanks to aesthetic enhancements.Photo courtesy of BMW Of North America
The X4 M Competition is set apart from the traditional X4 in a number of ways. On the exterior it has an M quad exhaust, M rear diffuser, M roof spoiler, M mirrors, M side air vents, and aggressive bumper air intakes. The looks is stronger and beefier than the traditional X4 but not so aggressive that it would turn off soccer moms.
Under the SUV's hood is a twin-turbocharged 3.0-liter BMW M inline six-cylinder engine that is paired with an eight-speed M Sport automatic transmission. It gets 473 horsepower and 442 pound-feet of torque that gets it from zero to 60 mph in four seconds flat and up the highway on-ramp in quite a jiffy.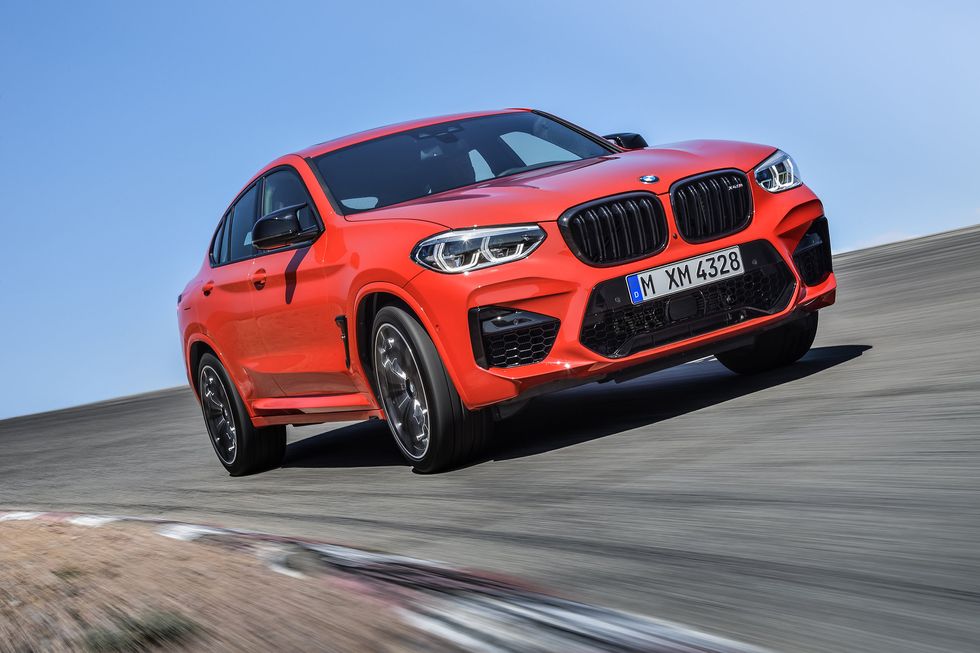 The exterior of the X4 M Competition is more aggressive than the traditional X4.Photo courtesy of BMW Of North America
The X4 M Competition isn't particularly fuel efficient, but with its growl and prowl activity, it's not meant to be.
The SUV wins points for its untraditional shifter, which is a lovely change that empowers the driver.
Its standard auto start-stop technology is relatively smooth operating but easy to turn off. Its M Sport exhaust system delivers a lovely growl that will awaken your neighbors as you set off for an early flight. All-wheel drive is standard.
The SUV is performance-focused but still family-friendly.Photo courtesy of BMW Of North America
The inside of the BMW X4 M Competition is pretty much the same old tune as the X4 except for the standard 14-way power front M sport seats which are more comfortable than their traditionally plush non-M seats in other X4 models. That's not usually the way it works, but in this case it's welcome.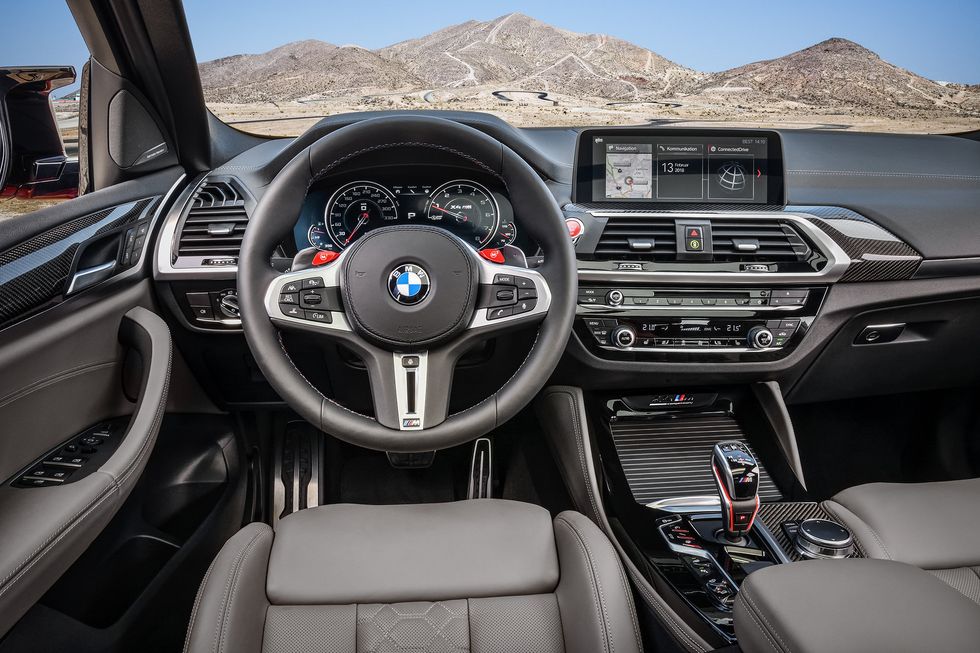 There's not a few aesthetic changes in the X4 M Competition that differentiate it from the traditional X4.Photo courtesy of BMW Of North America
The model doesn't have most of the standard safety and driver assistance bells and whistles that other SUVs have, even with their much lower price tags. The argument can be had that it's likely because this model is made to be track-ready. But, honestly, how many buyers are spending significant time on the track in this 4,600-pound high-rider?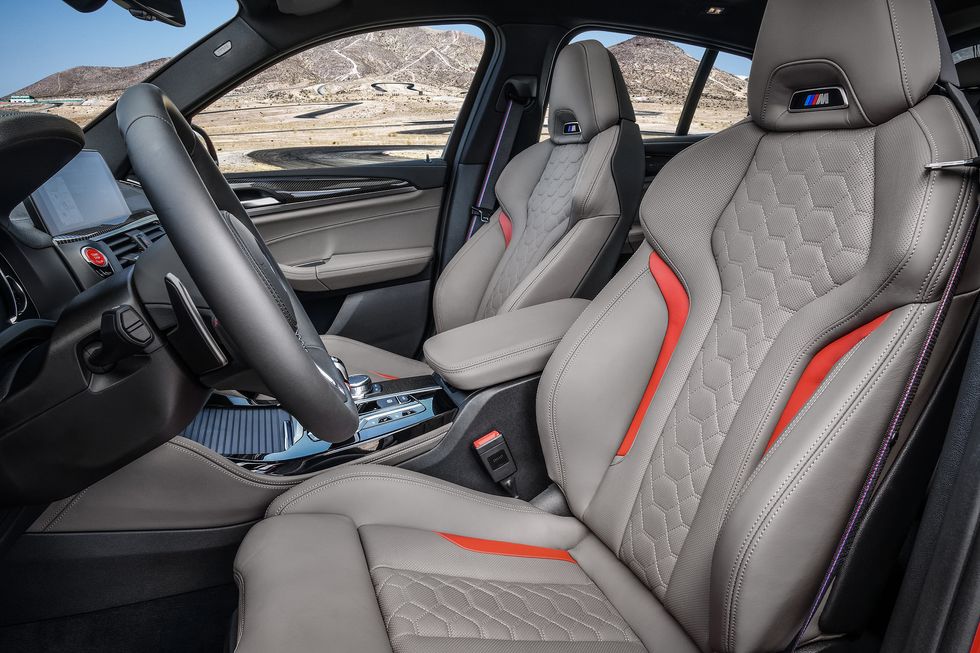 The model adds colored accents to the interior.Photo courtesy of BMW Of North America
The SUV's cargo space is fine for daily driver use and its M Sport appointments and color accents are a fun touch in the cabin. The LED-lighted M badging between the seat and headrest on the driver and front passenger seat are a fun addition to the model though there are purely for vanity.
It also isn't cheap. With a starting MSRP over $80,000, the X4 M Competition is for a particular customer who craves track-ready fun but also the type of practicality that lends itself to school drop offs and road tripping. This model checks all those boxes.
From Your Site Articles
Related Articles Around the Web