500-horsepower Audi SQ7, SQ8 coming to the U.S. this spring
Jan 15, 2020, 1:37 pm
Photo courtesy of Audi AG
It's safe to say that the Q7 and Q8 aren't the most invigorating models in the Audi lineup. The family haulers have proved themselves with premium interiors; high-tech comfort, convenience, and safety technology; and the type of drivability expected of the German brand. Now, they're getting a power upgrade as they prepare to land on U.S. shores.
The SQ7 is the first performance variant of the Audi Q7 three-row SUV. The SQ8 slots between the Audi Q8 and Audi RS Q8. The models are both tuned to be sportier than their Q7 and Q8 counterparts, delivering some much-needed fun behind the wheel.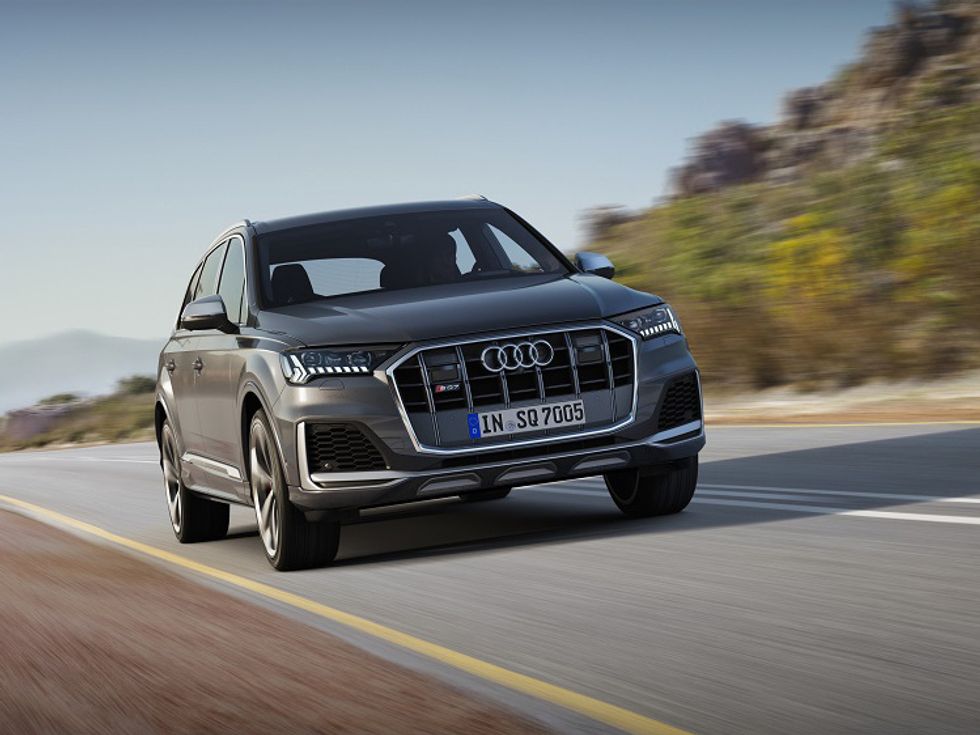 The Audi SQ8 isn't as powerful or sporty as the RS Q8, but it is a big step forward from the Q8.Photo courtesy of Audi AG
The 2020 Audi SQ7 and 2020 SQ8 are both equipped with a 500-horspower, twin-turbocharged 4.0-liter V8 engine that can get the SUVs from zero to 60 mph in 4.3 seconds. It's quick off the line thanks to its 568 pound-feet of toque. Audi is pairing each V8 with an eight-speed automatic transmission.
All-wheel drive is standard. A sport differential is standard and is able to send up to 80 percent of the vehicles' power to the rear wheels, which is helpful in inclement driving conditions. Additional tech can turn the rear wheels in the opposite direction of the front wheels.
Active roll stabilization is also available.
The exterior of the 2020 SQ7 and SQ8 is adorned with differentiated with Alu-optic or Black-optic design elements, including air intake blades, side sill blades, standard silver mirror caps and quad exhaust outlets. SQ7 models wear an octagonal Singleframe grille and ride on standard 20- or available 21-inch wheel designs. The SQ8 features an Alu-optic grille surround and comes standard with 21- and has available 22-inch wheel designs.
The cabins of the model feature the usual design notes for Audi's mid-grade sport models. There's standard front S sport seats each with heating and ventilation and cross-stitched leather.
The SQ7 and SQ8 arrive at U.S. Audi dealer lots in the late spring, with final pricing and packaging to be announced closer to their on-sale dates.